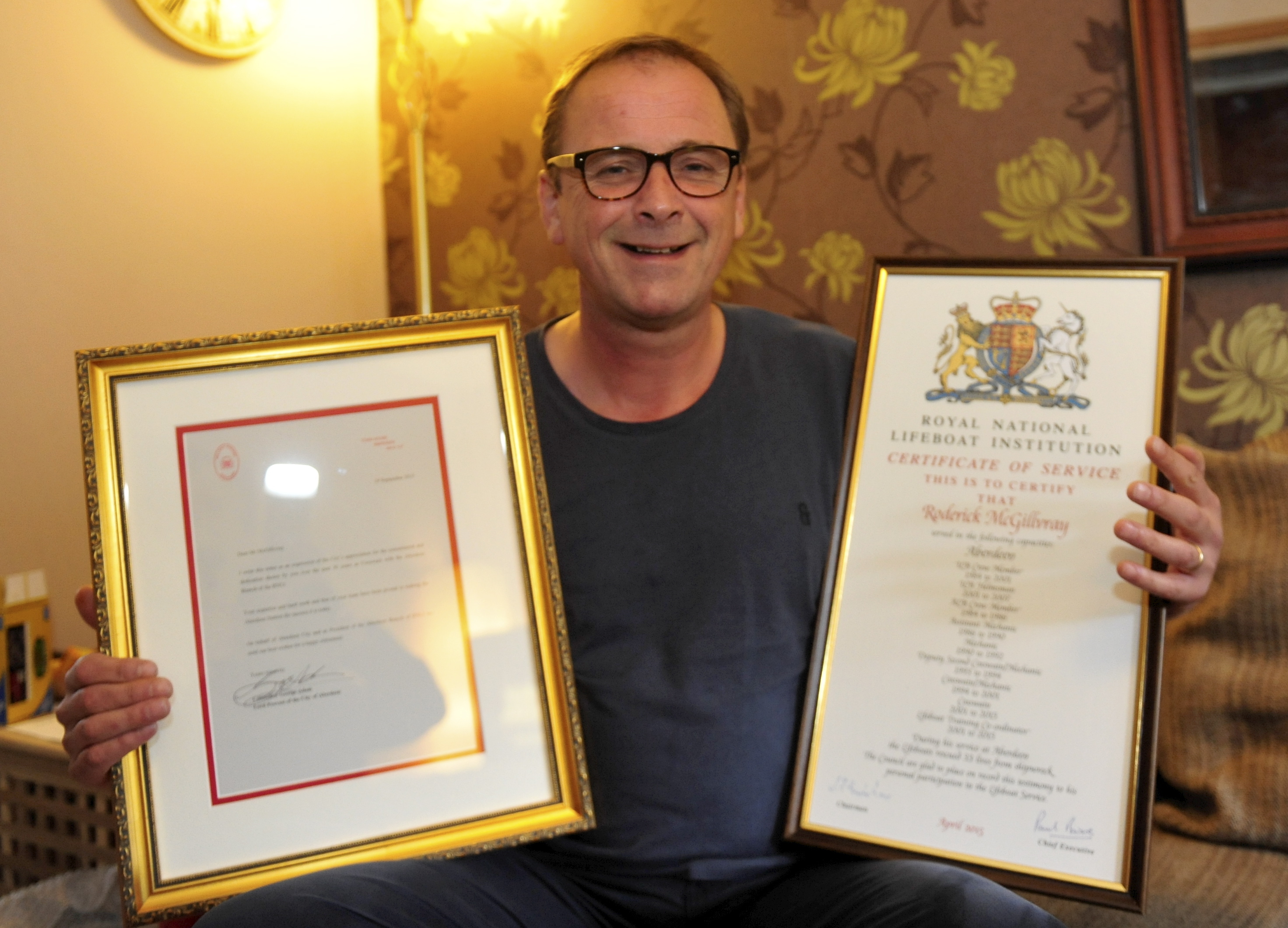 A MAN who has dedicated more than 30 years of his life to saving others has been forced to step down after being diagnosed with multiple sclerosis.
Rod McGillivray joined Aberdeen RNLI in 1984 and has helped rescue 33 people during his time on the lifeboats.
But he has had to step away from the job after his condition made it "impossible" to carry on.
Rod was diagnosed with MS in 2012 – the same day he helped save 12 oil workers and two pilots from the North Sea after a Bond-operated helicopter ditched about 30 miles off the Aberdeen coast. The aircraft had been on its way to the Maersk Resilient rig when a safety light incorrectly warned the pilot the emergency lubrication system had failed.
The pilot landed the helicopter in the North Sea 15 minutes into the flight after sending out a mayday call.
Three helicopters and two lifeboats – including the Aberdeen all weather lifeboat, which Rod was in charge of – were scrambled to the scene. All 14 men were rescued and no one was seriously injured.
Rod said: "I will never forget that day. I had a lumbar puncture appointment at Aberdeen Royal Infirmary and we ended up taking around 12 people off the helicopter when it made the controlled ditching.
"I remember it happened before my appointment and I only had around 15 minutes to get to the hospital after the incident had been dealt with."
It was after this lumbar puncture, Rod, of Ferryhill, was told he had MS.
Rod, 53, said he first realised something was wrong when he couldn't shake his fatigue and his symptoms have now got to the stage that he has to give up his job.
He said: "I would love to have a job but it's impossible.
"Even at lunchtime I often feel like I need to go to bed.
"I often get pins and needles and it's like having ants under my skin all the time, which is a horrible feeling."
But despite his condition, Rod remains upbeat.
He said: "I take the view that it's the cards I have been dealt with and I need to get on with things.
"There are people who are a lot worse than me."
Rod first served as an RNLI crew member from 1984 before becoming an assistant mechanic in 1986. He progressed to full-time mechanic for Aberdeen Lifeboat in 1990 and was named deputy second coxswain and mechanic in 1992.
Rod went on to become a coxswain and mechanic in 1994 before becoming a full-time coxswain in 2001.
Some other notable rescues include saving a sheepdog which went over the cliffs at Backburn, south of Downies, near Netherley, while rounding up sheep, a call out to help three people on board a catamaran in six-metre high waves, and rescuing the crew of an offshore standby vessel when the engine caught fire.
Rod said: "I have so many memories and we were called out to a variety of different situations.
"These ranged from people messing about on the shoreline to having to rescue people who were stranded on boats.
"You often got a call when you were in bed but I loved helping people and getting up during the night to do this.
"Due to the MS I can no longer get up at 2am in the morning and go out until 6am which is also something I will miss."
Rod has received a number of awards since joining the Aberdeen RNLI and was presented with a commendation on behalf of the Lord Provost at his leaving party. To thank him for his years of loyal service, his colleagues also created a video which has been posted on YouTube.
https://www.youtube.com/watch?v=7YPBvGK6bQU&feature=youtu.be
Rod said: "The guys do so much and they are fantastic. It was very touching to have the send-off and I will certainly never forget my time at the Aberdeen RNLI."