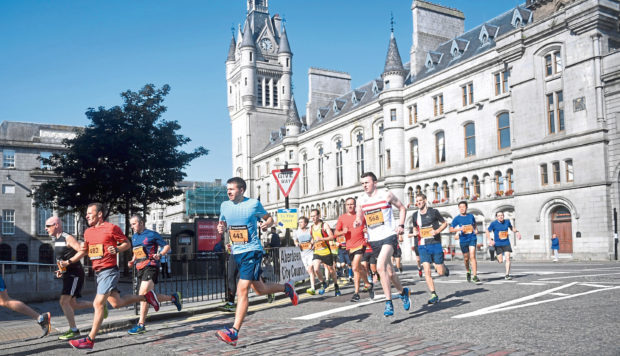 Scores of Aberdeen roads are set to close to make way for the upcoming Great Aberdeen Run.
The second annual event will take place on August 26, and will be following a new route this year.
It includes a 10k course, a half marathon and a family run, and passes a number of different attractions.
A number of major city routes will be closed throughout the day as runners make their way around the track.
The run begins at Union Street, which will be shut from its junction with Holburn Street to Castlegate from 4.30am until 6pm, moving down Marischal Street, which will be closed from 6.30am until 2pm.
From there, runners will travel along Regent Quay and past the Beach Ballroom and leisure centre, with that stretch shut from 6.30am until 12.15pm.
The Beach Esplanade, and down towards Hutcheon Street under the Mounthooly roundabout will be shut to traffic from 6.30am until 2.45pm.
From the esplanade, those taking part will travel through Bridge of Don along Ellon Road and back through Seaton Park, through Old Aberdeen, and back down King Street, rejoining the esplanade.
This section will reopen at 2pm, with the exception of King Street at the St Machar Drive roundabout, which will not open in a southbound direction until 2.45pm.
Returning back to the city centre along Hutcheon Street towards Gallowgate, drivers will be prohibited from Gallowgate, Skene Street, on to Carden Place and back along Queen's Road.
From Gallowgate, this section of the route will be shut from 6.30am until 3.30pm.
Event director Jamie Still said, "We have worked alongside our partners, Aberdeen City Council, to keep disruption to a minimum and hope to see spectators lining the course to support runners along the way."