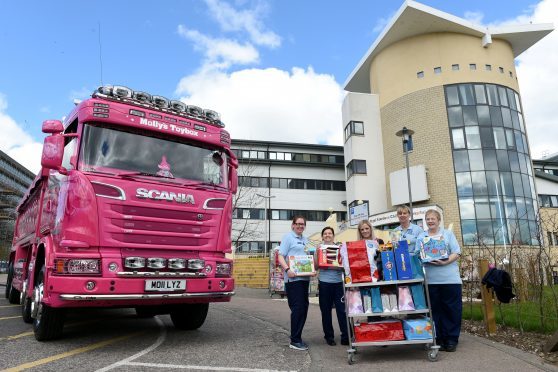 A bumper delivery of toys has been made to the children's hospital after a patient's story captured the heart of a North-east business.
More than £4,000 worth of toys arrived in style at the Royal Aberdeen Children's Hospital (RACH) aboard a bright pink truck.
The colourful idea came from Gemma Jamieson Cameron, of Ellon-based Jamieson Quarries.
After hearing about the story of five-year-old Eileidh Paterson, who is being treated in the hospital for neuroblastoma, Gemma decided to help.
In a bid to bring cheer to Eileidh and other youngsters receiving treatment there, the North-east company kickstarted a gift fund with an initial donation of £1,000 to create a toy fund.
Others then started to flood in from companies across the North-east – amounting to an astonishing 80 DVDs and CDs, 100 books, 20 portable DVD players and more than £400 worth of gift cards and "Hey Sweetie" treats.
The delivery – which was a year in the making – culminated in the delivery of the treats on the so-called Princess truck to the front of RACH, travelling 13 hours from Somerset where it was painted for the occasion.
Gemma, who is the office manager for the family business, said she had always wanted her dad to create a pink truck for the fleet and is delighted to see it being put to good use.
The mum-of-one said: "I have been asking my dad for a pink truck since I was young and now, at 32, I've finally got my way.
"We had such fun even planning it.
"The truck really caused a stir, this is bigger than Christmas.
"We even had children watching from the windows as the truck pulled up."
Gemma's daughter Molly was also at the big reveal and made the most of her chance to meet some of the patients.
She said: "It was good fun.
"I gave lots of toys to the sick kids who aren't well. They're big and brave."
And the visit to RACH appears to be just the start for the Princess truck.
Gemma said the truck has a bright future.
She added: "We'll probably do some school fairs and truck shows now – we want to spread the love. This is just for starters."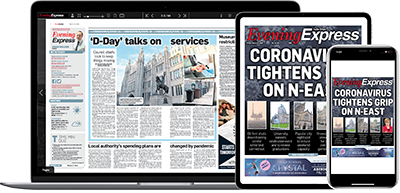 Help support quality local journalism … become a digital subscriber to the Evening Express
For as little as £5.99 a month you can access all of our content, including Premium articles.
Subscribe