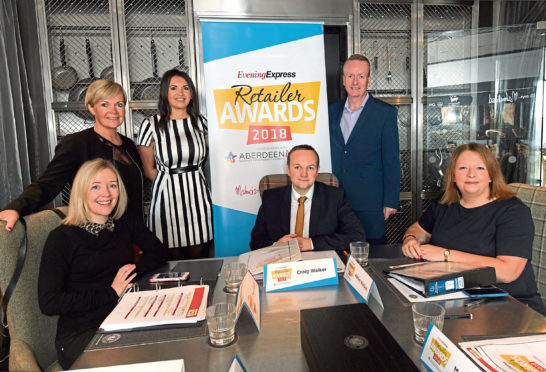 The finalists of the Evening Express Retailer Awards 2018 can be revealed today.
The competition, now in its fourth year, saw many high-quality entries from businesses across Aberdeen and Aberdeenshire.
A panel of judges with a wealth of experience between them met at the city's Malmaison, where they were given the difficult task of choosing finalists in each category.
All individual entries were thoroughly studied and discussed before the panel decided which businesses most deserved to be shortlisted.
The panel was joined by Evening Express editor Craig Walker, who was impressed by the number and quality of entries in all categories.
He said: "It was a tough job whittling the list down to select the finalists in each of the categories.
"It is clear from the entries that there are an awful lot of good things in the north-east and a lot of local produce is being used which is really good to see."
---
---
Food and travel writer Claire Jessiman was equally impressed by the fact that an increasing number of retailers use products sourced locally.
She said: "One of the most heartening things to see is the passion for local produce that so many entrants have.
"We have such a fantastic natural larder in this area backed up by a wealth of local food and drink producers and it is great to see retailers using and championing them."
Morag Stark, Malmaison's general manager, is proud to support the Local Produce of The Year category.
She said: "We are very excited to be sponsoring this fantastic award, which not only recognises the fantastic local produce available to us, but also the great businesses that provide an exceptional experience and outstanding service."
While Morag did not think it was difficult to choose finalists, she was certain it would be very hard to select winners.
She said: "There is such a high standard of businesses to choose from, and each one is so diverse and successful in their own way.
"As a region, we have so many fantastic local suppliers and businesses that thrive, and this will be a very difficult category in which to select a winner."
Julia Bryce, food blogger and Society magazine's content editor, could not agree more.
She thinks we are "spoiled for choice" when it comes to bars and restaurants in the north-east.Julia is also excited that there are many new businesses which show what they are all about in "creative and innovative ways".
She said: "It is a real treat to be involved as the calibre of businesses who have entered showcases how brilliant the north-east of Scotland is."
The panel also included Cheryl Smith, markeing manager at Bon Accord, which sponsors the Fashion Retailer of the Year category.
She said: "It is a great category to put a spotlight on the fantastic offer Aberdeen has from leading high street names to independent specialists."
Cheryl thinks it is "inspiring" to see the retail sector continue to grow and become more and more diverse.
Adrian Watson, chief executive of Aberdeen Inspired, which sponsors the Union Street Champion Retailer of the Year category, was also among the judges.
He said: "It is well documented the challenges facing any high street at the moment and Union Street is no different.
"However, it is still our thoroughfare for the city and wider region and there are still many fine retailers there who care passionately for it. We were keen to recognise these champions and we were delighted when the Evening Express brought this category in last year."
Aberdeen Inspired also supports the Outstanding Contribution to Retail category.
Adrian said: "The award speaks for itself.
"There have been so many people that have dedicated their life to retail and made such a difference to the city centre and way beyond.
"It is only right and fitting that such people are recognised at the leading retail awards of their kind in the north of Scotland."
Karen Pugh, director of property at Elevator, also sat on the judging panel for the Retailer Awards.
She said: "I think it is very important to recognise and for local retailers to be supported.
"Retail brings high street and communities alive and it is vital that independent and new retailers are encouraged.
"I am very excited to be a part of the Retailer Awards as it is a reminder to us all about how retailers are working hard to be unique and focus on the whole service and experience, not just their products."
The winners of each category will be announced at a ceremony taking place at the stunning Mercure Aberdeen Ardoe House Hotel on Thursday November 8.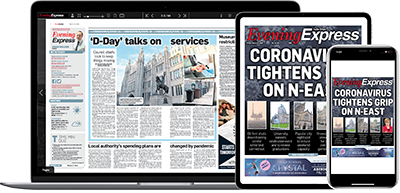 Help support quality local journalism … become a digital subscriber to the Evening Express
For as little as £5.99 a month you can access all of our content, including Premium articles.
Subscribe