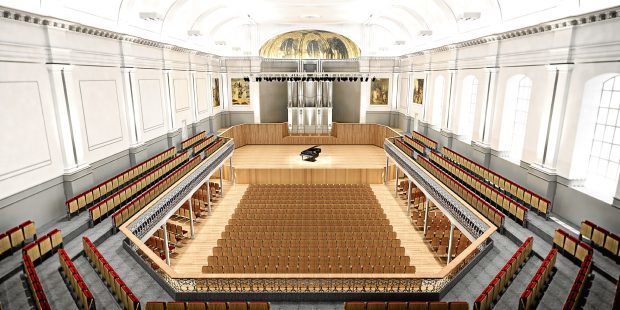 The £8.7 million transformation of a popular Aberdeen music venue is on track to be unveiled this year with big changes to the internal structure now completed.
The renovation of Aberdeen's Music Hall includes extensive underground excavation work to expand the basement, freeing up space on the ground floor for a new creative learning studio, cafe and bar.
The box office has also been relocated and a new intimate performing space has been created.
For the first time in its history, the 200-year-old building has three lifts, allowing access from basement to balcony for people with restricted mobility.
Aberdeen Performing Arts (APA) chief executive Jane Spiers said the "once-in-a-generation" project presented huge structural challenges to the team.
She said: "I am pleased to say that we have successfully overcome these challenges thanks to amazing feats of structural engineering, creative workarounds, an expert team passionate about the project and good project management."
Contractor Kier Construction Scotland area director Sean O'Callaghan said: "Now that the critical structural engineering work has been completed, we are out of the ground and ready to begin breathing life into the exciting new blueprint."
The multi-million pound project is being funded by Aberdeen Performing Arts (APA), a charitable trust. So far it has raised £6.7m.
The work is due to be completed before the end of this year.
But Ms Spiers explained that this deadline had been pushed back from summer partly due to the need to find the remaining £2m.
Ms Spiers said: "We are happy to be able to invest in the cultural life of the city in this way.
"We are so grateful for the support we've received to date.
"We're now on the last lap of the fundraising campaign and we are thankful for the ongoing support of the people of Aberdeen and the North-east."
To find out more about the Music Hall Transformation and to choose a way to support the fundraising efforts of APA, visit htttp://www.aberdeen performingarts.com/musichall/giveagift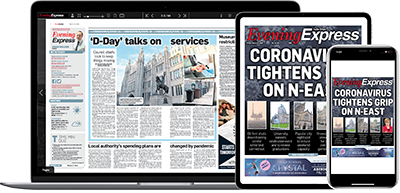 Help support quality local journalism … become a digital subscriber to the Evening Express
For as little as £5.99 a month you can access all of our content, including Premium articles.
Subscribe