A transport chief has urged residents to do their bit as the "Beast from the East" weather front hits the region.
With temperatures set to drop below -8C (17.6F) with wind chill, Aberdeen City and Aberdeenshire councils said they have pre-gritted all priority and secondary routes in preparation for up to 30cm (11.8in) of snow as freezing weather sweeps in from Russia.
Here's the roads across Aberdeen and Aberdeenshire covered by gritters
However, transport spokesman for Aberdeen City Council Councillor Ross Grant has also asked residents to help in efforts to keep the city moving.
Cllr Grant spoke as Aberdeen and other parts of the North-east saw snow hit.
He said: "I'm confident we've got an operational fleet and staff that are at full capacity – pre-gritting is now under way so we're off to a good start.
"We have more than 900 grit bins which are fully stocked, so there are ample opportunities for residents – should they have a bit of extra time – to go out and do their own wee bit, because it does make a huge difference to the overall operation of the council.
"I think it's important that we do properly manage people's expectations and a big part of that is making sure everyone in the city does take that extra bit of time to prepare for their week ahead and the likelihood for some disruption.
"I urge motorists, pedestrians and cyclists to build in extra time to their journeys and also if they can do their own part, that would really help as well."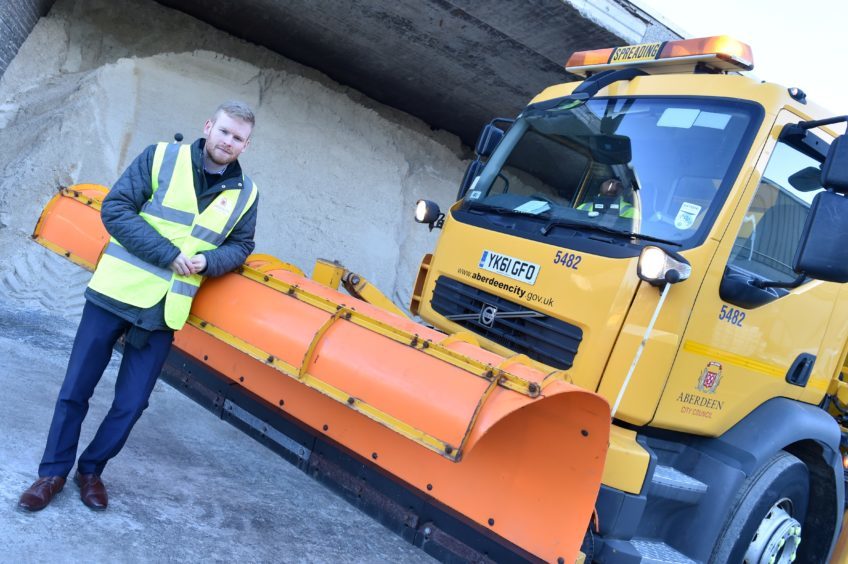 More than 90 staff, along with 14 demountable road gritters and 19 pavement gritters, have been deployed to battle the cold snap in the Granite City.
A spokesman for Aberdeenshire Council said: "We treated our primary network yesterday afternoon, this started at 3.30pm, and again today at 5.40am.
"We also carried out a pre-treatment on secondary routes yesterday afternoon.
"We will be on secondary routes today as required. We have in excess of 14,500 tonnes of salt in stock and a vessel is loading this week with a further 5,000 tonnes to be delivered next week, so we have adequate salt stocks. Roads supervisors are making contact with farmers and contractors for potential snow clearing."
The worst of the weather is expected tomorrow, with an amber warning being issued by the Met Office. Transport Scotland has warned of a "high risk of disruption" and said adverse weather may lead to requests for people not to travel.
Chief superintendent Stewart Carle, head of road policing at Police Scotland, said: "There could be significant traffic delays, so please start to plan your journey now and consider if you really need to travel when conditions are poor.
"The amber weather warning tomorrow morning will prove particularly challenging and we will continue to give advice on social media and via radio stations so please tune in and follow @PoliceScotland, @MetOffice and
@TrafficScotland for the latest updates."
Aberdeen International Airport has assured passengers teams will be on hand to clear runways but have also advised passengers check travel information before making their way to the airport.
A spokesman for First Bus said: "First Aberdeen is aware of the forecast weather warnings and would like to assure passengers we have taken steps to ensure that services will operate as normal wherever possible.
"The safety of our passengers and our staff is of course our number one priority and any decisions to alter service would therefore be on this basis only."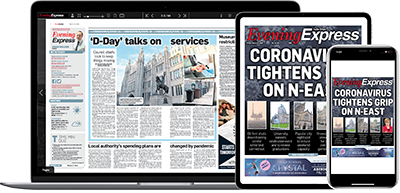 Help support quality local journalism … become a digital subscriber to the Evening Express
For as little as £5.99 a month you can access all of our content, including Premium articles.
Subscribe