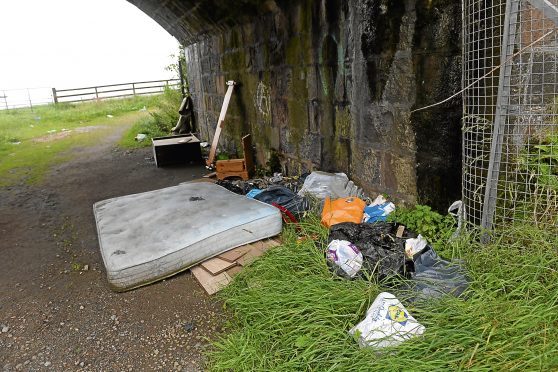 A councillor has condemned flytippers who are polluting a scenic route.
SNP councillor Alex Nicoll has hit out against "mindless" flytippers who have been littering a large number of household items under a rail arch.
Cllr Nicoll said: "I was alerted to this issue by local residents who are rightly outraged by mindless individuals flytipping on what is one of our most scenic routes to and from the city centre."
The Coast Road, which takes motorists, pedestrians and cyclists between Cove, Altens and Torry has become a dumping ground for flytippers.
Cllr Nicoll said: "Both pedestrian and cycling routes in the area are currently being upgraded and, whilst there is no doubt that this will increase the number of folk using the area, the last thing they'll want to encounter is someone else's mess strewn across the ground.
"I have alerted council officials to the issue and they are making efforts to remove the waste but what we really need is for the individuals dumping their waste to show some care and respect for the community and just use the nearby recycling facilities."
An Aberdeen City Council spokeswoman said: "The flytipping in this area was reported to us last week and is in hand and will be cleared within the next few days.
"We would encourage people to report flytipping to us by using the 'report it' function on our website or by calling 03000 200 292 from 7.30am to 5pm, from Monday to Friday."
Michele McPartlin, chairwoman of Cove and Altens Community Council, said the flytipping in the area is an "ongoing" and "historic" issue.
She added: "Lazy and inconsiderate people dump rubbish that they could quite easily take further down the road to the Recycling Centre in Tullos.
"Clearing it up costs everyone in the long run as the city council has to spend man hours doing it.
"The recycling centre at Greenbank Road, Tullos, along with others around the city, is open long hours – there is no excuse!"