Dozens of residents turned out in force to protest against a controversial housing development at one of Aberdeen's most famous landmarks.
Around 45 people took part in the demonstration, voicing opposition to the proposed flats at Rubislaw Quarry.
Canadian developer Carttera wants to build 299 flats at the site and the project is due to go before Aberdeen City Council planners tomorrow.
The development is recommended for approval.
On the council's website 350 objections have been made to the plan, with residents citing the design, height and lack of need for the development as reasons for it not to go ahead.
William Sell, the secretary of Craigiebuckler and Seafield Community Council, said: "We're out here to spur people on, to get in touch with their councillors to voice their opinions on the Rubislaw Quarry development.
"You'd be surprised about the number of people who don't know about the development, and we're just trying to spur the public on to lobby the planning committee."
Mr Sell was pleased with the turnout at the "11th hour" protest.
Lesley Lewis, a resident of Queen's Road, adjacent to the quarry, said: "My main objection is the amount of traffic that it would cause. I worry about my kids crossing the road to get the school bus."
Kim Ingram, who stays in Edgehill Terrace, said: "This is going to affect my life. If there's 300 parked cars in the area I will not be happy."
Ms Ingram also said the flats would have a negative impact on an already "saturated" rental market.
A spokeswoman for Carterra said: "We are delighted the city's planning officers are supporting approval of this architecturally striking building to breathe life in to Rubislaw Quarry and be a fabulous addition to the skyline.
"Aberdeen is currently at a crossroads with oil investment, but with the new football stadium, AWPR, Nigg Harbour, Music Hall refurbishment, Art Gallery extension and new AECC, the city is already taking bold steps and rising up to invest for future generations."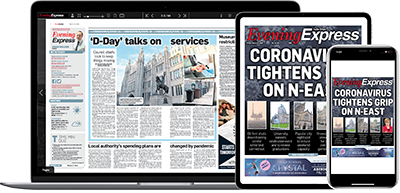 Help support quality local journalism … become a digital subscriber to the Evening Express
For as little as £5.99 a month you can access all of our content, including Premium articles.
Subscribe