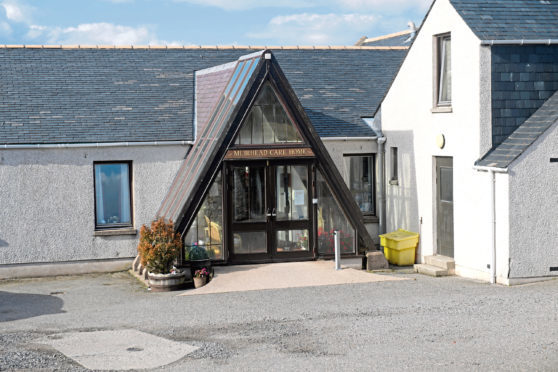 Potentially unlawful and cruel acts by staff at a north-east care home have been laid bare in a newly-published report.
Muirhead Care Home in Muir of Fowlis, near Alford, was closed last month after an inspection by the Care Inspectorate revealed fears of a "serious risk to the life, health or wellbeing" of elderly residents.
Aberdeen Sheriff Court cancelled the home's registration after the Inspectorate's damning assessment.
At the time, the Care Inspectorate's chief executive Karen Reid described the conditions as "highly distressing".
She said: "We saw evidence of vulnerable people being tied to chairs with belts, which is extremely dangerous and unacceptable."
Now the report that led to the closure has been made public for the first time and reveals the full extent of the problems.
According to the watchdog, some staff at the home were ill-equipped with the skills and knowledge to carry out their jobs, with some having never worked in a care environment before.
One incident described how staff deliberately withheld an object that was known to calm a resident.
The report said: "This was an act of cruelty. There was no evidence that action had been taken to stop this from happening after this was reported to the manager.
"This meant that this cruel behaviour could continue."
---
---
Inspectors also observed there was not enough food at the home to feed residents: "For example, cabbage was the vegetable of choice and there was only half a cabbage available, for salad ingredients there were 12 tomatoes, two peppers and one courgette, this was to be offered to 31 residents."
Inspectors also said staff were "indifferent" to residents being poorly dressed.
A person who had a risk of falls had their shoes on the wrong feet, increasing the chance of tripping.
"We found evidence that people living in the care home were not treated with dignity and respect," the report continued.
A total of 13 incidents were passed on to the adult support and protection team by the regulator as a result of its inspection.
The report said: "This meant that a full review of these incidents did not take place to support the residents and minimise the risks to residents of incidents happening in the future.
"We saw people who needed supervising to protect other residents go for long periods without any staff supervision.
"This meant if a resident became distressed and lashed out, staff were not available to intervene and protect other residents from violence."
The watchdog also criticised the standard of management within the home, with several complaints against staff not being investigated and a lack of punishment being doled out.
The report said: "We read in staff files that concerns had been raised with the manager about the conduct of some of the staff.
"We saw that issues about staff conduct, staff attendance and concerns that affected care provision had been raised on multiple occasions.
"We saw no evidence that these concerns had been addressed by the provider or manager.
"As a result, staff continued to fail to appear for shifts.
"This meant there were not enough staff on duty to meet the needs of residents and impacted on the effective running of the kitchen as well as people's experiences of care."
The parent company behind the home, Lawson Muirhead Home Ltd, went into voluntary liquidation last month.