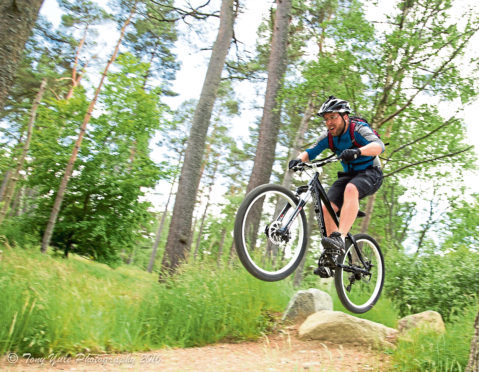 A new north-east bike trail has been recommended for approval, providing it meets environmental conditions.
The 20km tracks planned for just outside Tarland would also feature a car park.
The tracks would be built on the southern side of the hill of Pressendye.
Circuits would be graded along difficulty lines – with blue being the easiest, followed by orange and red, which is described as "extreme and jump tracks" in the report.
A report is due to go before the Marr Area Committee at its next meeting on Tuesday.
In the report, council officers said: "There is significant support for developments which promote and encourage outdoor access, leisure and recreation, particularly where this can have a positive effect on the local economy and encourage tourism."
Along with the recommendation to approve the plans, the report says that 12 conditions should be imposed on the development.
These include a site protection plan for the blue trail, to ensure that the historical surroundings are not harmed, as well as no external lighting being erected to ensure the welfare of protected animals in the area.
The application received 91 representations, with 22 objections.
Cromar Community Council was one of the parties to object to the plans.
The community council contended that the construction of the trail, in addition to the existing one on the south west of the village, could "sandwich" Tarland between the trails and create a hub for mountain bikers.
The group also argues that the development would have an impact on the ecology of the area.
Both the Scottish Environmental Protection Agency (SEPA) and Scottish Natural Heritage (SNH) had no objections to the plans, with SNH saying the proposal would not have any effect on local species.
However SEPA did say it would prefer the tracks to be moved slightly north.