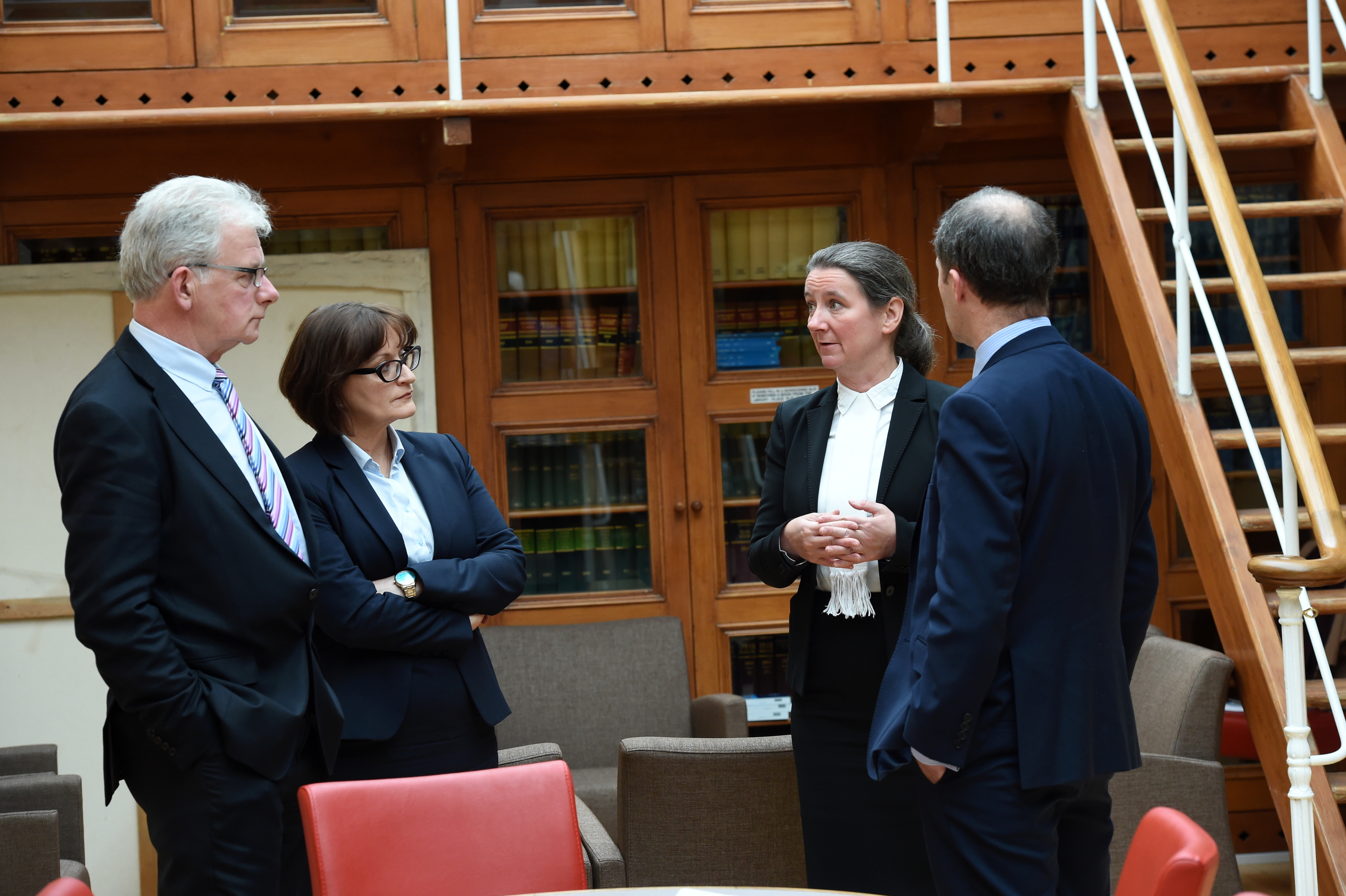 A top sheriff spoke of how he hopes an "innovative" pilot scheme at the city's sheriff court will be a "model" for crime reduction rates across the country.
Sheriff Principal for Grampian, Highlands and Islands Derek Pyle made the comments regarding the pilot of the Problem Solving Court – a year after it first began.
It comes as Justice Secretary Michael Matheson visited Aberdeen Sheriff Court to see the specialist court in action.
He also met some of the women who have benefited from the scheme.
The trial has been running in the Granite City since November 2015.
Dealing only with women with a history of regular, low-level offending at first, the trial was extended to men aged 16-25 with a similar pattern of offending in August.
The pilot scheme sees those placed on it made subject to community sentences, known as structured deferred sentences.
Their progress is then regularly monitored by the same sheriff.
Sheriff Principal Pyle said: "The Aberdeen sheriffs have welcomed the opportunity to test the problem solving court model in a Scottish context.
"It complemented their drive for efficiencies within the court system to ensure that the victims of crime saw an early conclusion of the justice process and that the offender's conduct was addressed in a direct way to avoid the pattern of repeated criminal behaviour.
"The hope is that the Aberdeen experience will act as an effective model for the reduction of crime across the country."
Among those Mr Matheson met was a 46-year-old Aberdeen woman who has been on the scheme for almost a year.
She praised the project and said that she hoped others could be helped by it.
She said: "It's benefited me immensely, it's kept me out of prison for a start.
"Two years prior to me getting on the programme, I was not out longer than two months, then I would be back in again.
"It was basically due to my previous convictions, they call it the revolving door syndrome.
"Then I was offered to go on to the programme. I thought I would give it a go. I'm actually shocked at how much I've learned.
"They help us with housing, it was said I had made myself intentionally homeless as I had been evicted from the last place I was in as I was in prison, so they were not going to house me. But because of being on the programme the social work helped me get a place.
"It's done me so much good, I really do hope they can start it in other places. I did not realise it was only in Aberdeen.
"Without a doubt this has made a massive difference to my life. If it hadn't been for this I would be sitting in a prison cell right now.
"I thank the social work and whoever it is that put the funding up, I can't thank them enough.
"I was really lucky I hope they can put more people on it, I hope others get the same good out of it that I did."
Since the pilot started, more than 20 women and five men have been supported to change their behaviour through the scheme, in a bid to decrease their risk of reoffending.
The pilot will be reviewed next year before any decisions are made in relation to the future of the trial.
Mr Matheson described the pilot scheme as "pioneering" and "innovative".
He said: "I have always been very impressed with the approach up here in Aberdeen Sheriff Court as it very much has a can-do attitude.
"When we asked Sheriff Principals across the country as to which of them would be interested in hosting the Problem Solving Court, the Sheriff Principal in Aberdeen was keen to do so.
"Problem Solving Courts have been used in America over the years, but this is the first we have been able to try them here within the Scottish justice system.
"I'm very encouraged by what I've heard, it's clear from the sheriffs, social workers and fiscals who have all been involved in the process so far that they think it's extremely valuable.
"The Problem Solving Court is one part of our wider effort to reduce reoffending and prevent future damage to families and communities by providing support to help people rehabilitate.
"Evidence shows that community sentences are far more effective than short term prison sentences in reducing reoffending.
"Reconviction rates in Scotland have reached a 17-year low, which shows we are heading in the right direction, supported by projects like this."