A call has been made for a special cycle path to be created between three north-east towns to make it easier for children to move around.
East Garioch Councillor Glen Reid is looking for a route to be made from Blackburn and Kintore to Kemnay.
The SNP politician argued it will give children more opportunity to move between the towns safely and without being driven by parents.
His call comes after the recent opening of the Inverurie to Kintore cycle path linking the two towns.
Plans are in place to link Blackburn to Kintore, but Mr Reid is hoping to create a wider cycle network, taking in more of Garioch.
He has welcomed the opening of the Kintore to Inverurie route. He said: "This terrific path enabled my children and I to go on a 20km bike ride from our home in Kintore without having to pop the bikes on the car and drive to a safe cycle route.
"Following its opening last Saturday and the planned next stage being Kintore to Blackburn, I am continuing my campaign for a route from Kemnay to Kintore and Inverurie.
"Around 67% of the children who attend Kemnay Academy come from Blackburn and Kintore and are bussed there.
"This route would allow them to access the school's leisure facilities and clubs outwith school hours without parents having to taxi them.
"I have asked council officers to look into this as the public transport links between our communities are poor and these paths not only benefit cyclists, they also provide a safe route for people to walk and jog.
"The proposal has huge support within the local communities."
Mr Reid added: "This idea has been in my head since before I became a councillor.
"One of my sons goes to Kemnay Academy and the bus services in that area are not very good, so it gives them limited options for using school services outside of school hours.
"It makes sense to link up different Garioch communities and have a more comprehensive network rather than just focusing on the Inverurie to Aberdeen route."
Fellow East Garioch councillor Martin Ford has campaigned for a number of years for the cycle path between Kintore and Inverurie and has said he is pleased to see the route in use.
Mr Ford, co-leader of Aberdeenshire Council's Democratic Independent and Green Group, said: "The works to build the previously missing section of cycle path between Kintore and Port Elphinstone are now largely complete – including the actual path itself.
"So the path is entirely useable all the way from Kintore to Port Elphinstone – and is being used, which is good to see.
"A complete route for cyclists and pedestrians between Kintore and Port Elphinstone, without the need to cross the busy A96 dual carriageway, is obviously a big improvement.
"I am very pleased Aberdeenshire Council has been able to provide this facility."
An Aberdeenshire Council spokeswoman said: "The creation of a shared-use walking and cycling path between Inverurie and Kintore is part of a larger project to develop a dedicated, traffic-free route between Inverurie and Aberdeen via Kintore and Blackburn.
"In addition to this long distance route, Aberdeenshire Council is committed to improving walking and cycling infrastructure on a local level through the Integrated Travel Town projects.
"The creation of a shared use walking and cycling path between Kintore and Kemnay is something the Council is willing to discuss with communities with a view to potentially developing in the future."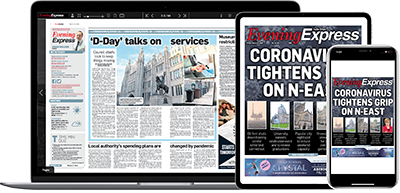 Help support quality local journalism … become a digital subscriber to the Evening Express
For as little as £5.99 a month you can access all of our content, including Premium articles.
Subscribe