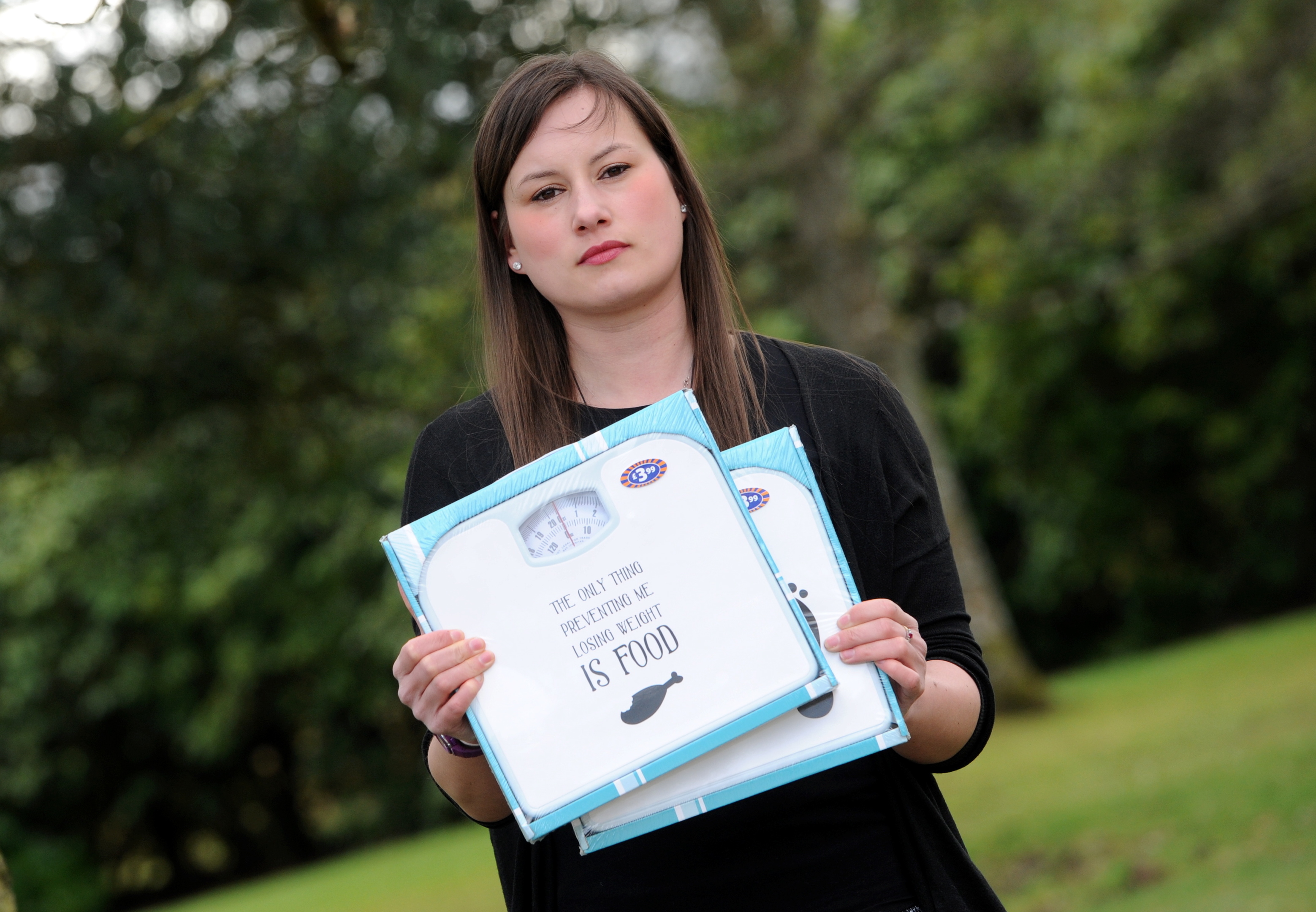 A woman who was hospitalised after battling eating disorders for more than 10 years today urged a shop to remove bathroom scales with "damaging" slogans.
Gail Webster spent her 27th birthday last year in a specialist eating disorder unit after anorexia nearly killed her.
She had been due to go on holiday with her boyfriend Phil Bellringer the day before, but doctors warned Gail she may not return alive.
Now Gail, a healthcare co-ordinator who lives in the city centre, is in recovery from the illness and is enjoying life again.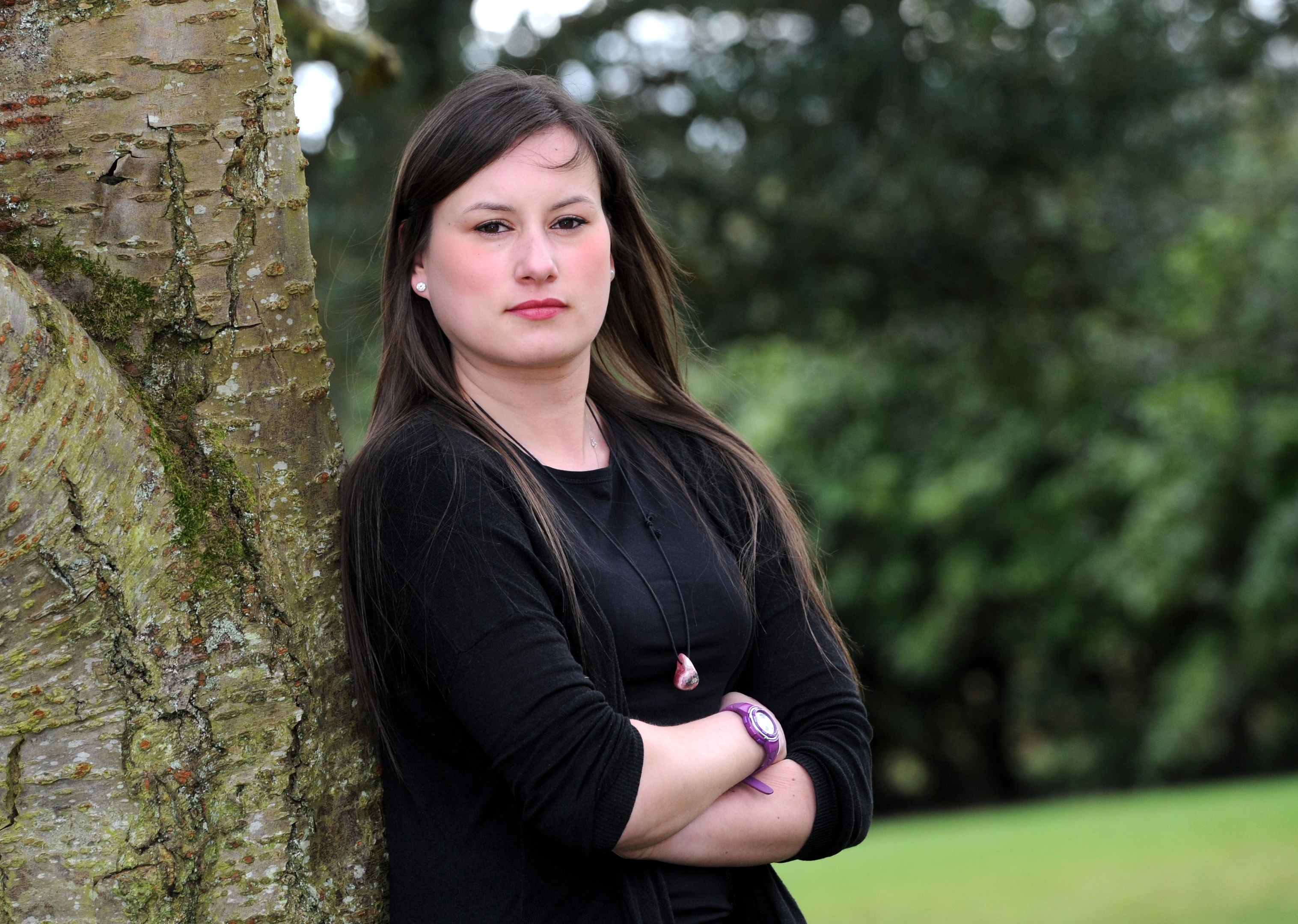 But Gail said she was "shocked and horrified" to find bathroom scales with slogans such as "The only thing preventing me losing weight is food" on sale in B&M.
Another statement branded across the £3.99 scales include "Nothing tastes as good as skinny feels", which sparked controversy when model Kate Moss said it in an interview in 2009.
Gail said the product could be "triggering" to vulnerable people.
She said: "Slogans like that can really affect people, especially people who have eating disorders.
"I feel like they're promoting unhealthy eating behaviour. I think it could lead people down a very destructive path and it could contribute to more eating disorders.
"People don't understand that eating disorders are not a vanity thing. People die because of organ damage."
Gail said she felt the items were "glamourising" eating disorders and asked the store manager to take them off the shelves.
She added: "Last year when I was suffering very badly a lot of my thoughts were, 'You're not good enough, you have to lose weight'. A lot of the thoughts were like the slogans on these scales."
Gail also said she was concerned the price of the scales could make them more accessible to youngsters.
She has chosen to speak out to raise the issue of eating disorders and to support others with the illness.
She said: "Anorexia is soul-destroying, it rips families apart."
Gail suffered from bulimia for years growing up.
She began experiencing stomach problems and found it more difficult to eat. That led to Gail developing anorexia and her condition deteriorated quickly. She did not eat more than 400 calories a day.
Gail was sectioned in hospital last July for more than five weeks – a move which Gail believes saved her life.
"I was meant to go on holiday but I wouldn't have eaten anything," she said.
"They told me if I went on holiday I was going to come back in a box."
Gail's Body Mass Index (BMI) was around 15 at her lowest weight. A healthy BMI is between 18.5 and 24.9.
She said: "Last summer I collapsed at work, after not eating for days.
"I actually felt like I was dying.
"The paramedics told me I was going to have a heart attack and the doctors told me I might die.
"I remember lying in my hospital bed in A&E. My partner and I were saying our goodbyes to each other."
Gail began her recovery after reaching a healthy weight in hospital. She said: "I was lying in bed thinking this is such a waste of my life. I was so angry about it. I thought, 'Never again.' It was this or dying."
Now she is enjoying riding her horse Murphy again and spending time with friends and family. Gail also attends North East Eating Disorder Support (NEEDS) Scotland groups.
She said: "I am determined to beat this. My advice to others going through this is stay strong and keep going. You deserve to get better."
A B&M spokesman said the "Nothing tastes as good as skinny feels" scales would be removed from stores.
He said: "We have asked our supplier to withdraw this particular quotation from this range of novelty £3.99 weighing scales."
Contact NEEDS by visiting www.needs-scotland.org The Beat helpline is 0345 634 1414.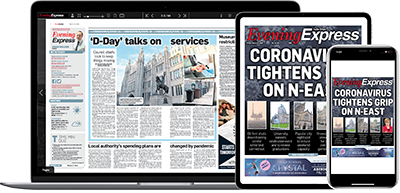 Help support quality local journalism … become a digital subscriber to the Evening Express
For as little as £5.99 a month you can access all of our content, including Premium articles.
Subscribe