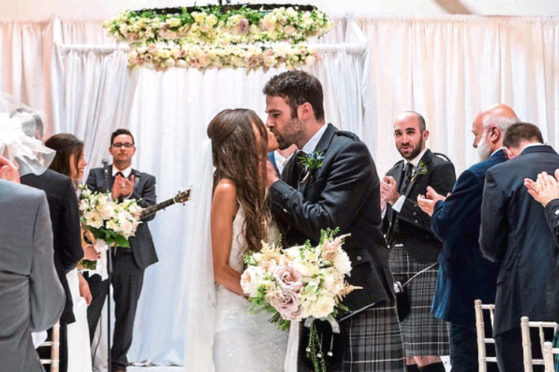 They say absence makes the heart grow fonder, which is something David May knows all about.
For his proposal to girlfriend of five years Emma Ritchie was quite possibly the most thoughtful and romantic ever.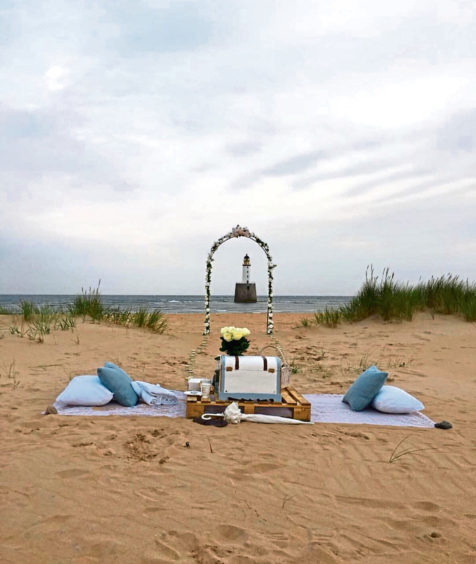 Emma, 21, a third-year student studying management at Robert Gordon University, said: "I had been on holiday to Lisbon in Portugal with my friend and David picked me up from the airport.
"He took me to our favourite restaurant, Rustico, for a meal and then drove us to Rattray Head Beach by Crimond."
Delighted to be reunited with each other, Emma didn't think too much about David taking her to their favourite spot… until she noticed something of interest along the beach.
"As we walked I noticed there was a beautiful flower arch with blankets, cushions and lit candles in glass jars.
"David was very emotional, as was I, but when he went down on bended knee and asked me to marry him, I could not have been happier. "
Unbeknown to Emma, David, 28, had already recruited the help of friends Jony Strachan and Matthew Cardno to help set up the scene of the proposal.
They were hiding behind a sand dune as David placed a stunning single sapphire, encrusted in a circle of diamonds, on the third finger of Emma's left hand.
"I just remember seeing both Jony and Matthew run down towards us afterwards," said Emma.
"I often relive that moment because it was so very special."
And both Jony and Matthew were delighted to help make their friends' day run smoothly.
The happy couple first met at the Assembly of God Church in Fraserburgh in the summer of 2012 and it was a case of love at first sight.
"David was very popular with everyone who attended the youth team at the church," said the new Mrs May.
"He is handsome, but he is also really kind and gentle and gets on with absolutely everybody."
Within a few months of getting to know each other, Emma – who confessed she would live for her Friday nights to see David at church – was to soon discover David felt the same way!
"Other people could see there was a spark between us so were not too surprised when we did eventually become a couple."
The lovebirds exchanged vows in front of some 100 plus guests, including 30 children at Aswanley, Huntly on Friday July 20 2018.
"We had a happy and special day, it was just our fairytale," said Emma.
---
---
The wedding ceremony was conducted by pastors Danny Murphy and Ben Ritchie from the Assembly Of God.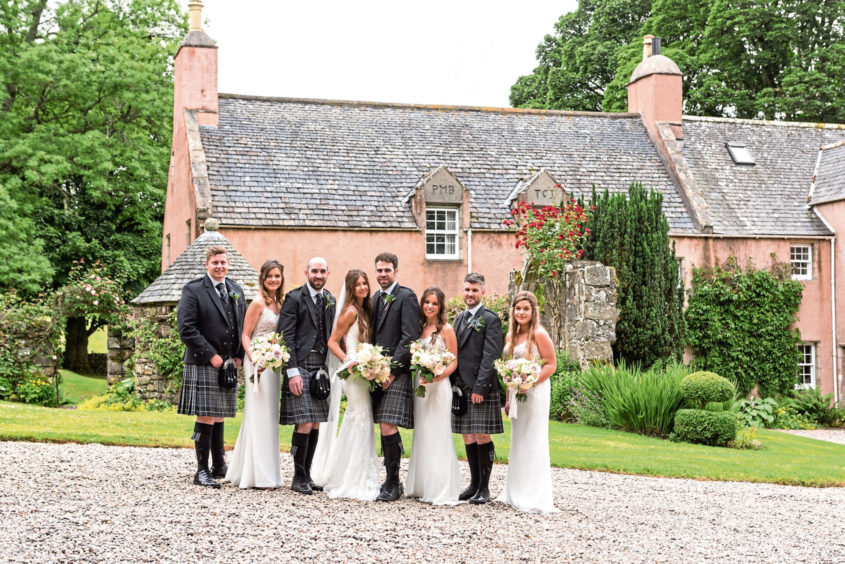 Friends Zander Buchan, Shaun West and Josh Williamson, also from their church, performed one of the couple's favourite songs, Clear by Needtobreathe, as they signed the wedding register.
The newlyweds chose to cut their beautiful wedding cake, which sat central to two macaroon towers, after the ceremony.
Frank Sinatra's Love Is Here To Stay was their choice song for their first dance.
David whisked his new bride off on honeymoon to Santorini in Greece, followed by a trip to both Florence and Rome in Italy.
The couple, who live in the city centre, are settling in well to married life and they look forward to spending their first Christmas together as man and wife.
So does Emma have any advice for other brides ahead of their big day?
"Enjoy every minute. Take it all in and share the love and joy with the people you love.
"We are both so happy and absolutely love married life."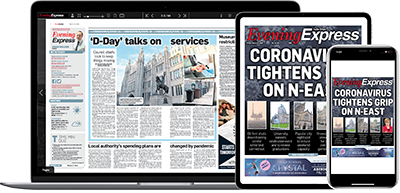 Help support quality local journalism … become a digital subscriber to the Evening Express
For as little as £5.99 a month you can access all of our content, including Premium articles.
Subscribe