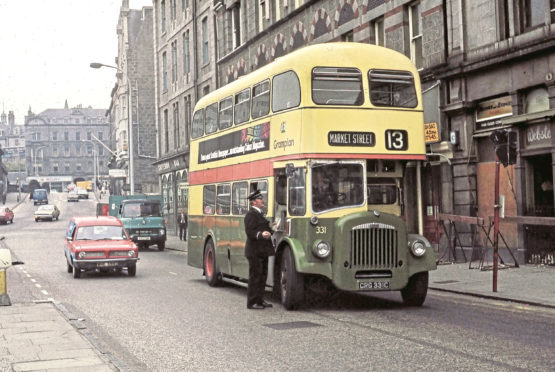 A collection of rare images detailing the journey of Aberdeen buses through the decades has been unveiled in a new book.
The photos, some which are previously unpublished, show the progression of bus transport in Aberdeen from the 1960s onwards.
Written by Peter Findlay, Peter McCutcheon and Steven Pirie, Aberdeen Corporation Transport and its Successors looks at buses in the fleet that have been a familiar site in the city throughout the years.
The men are all from Aberdeen – Peter Findlay worked in public transport for more than 40 years, Mr McCutcheon is a retired bus driver with 36 years' experience at Aberdeen Corporation Transport, Grampian Regional Transport and First Bus, while Mr Pirie describes himself as a "keen bus enthusiast".
Mr Findlay said: "We (the three authors) have known each other since the mid 70s when attending meetings of the Aberdeen Transport Society. We are all retired but continue to have an interest in transport."
He has previously published two books, the first featuring the buses of Alexanders' Northern (subsequently known as Northern Scottish) which operated across the north-east of Scotland, the second covering independent bus and coach companies in the Grampian area. He added: "Worthy of note is that it is 120 years since the Corporation Tramways were formed, 60 years since the last tram operated.
"First Group Heritage Trust along with Aberdeen and District Transport Preservation Trust (The Bus Collection at Alford) and Aberdeen Transport Society are preserving the heritage of the Corporation and other companies of the north-east."
The book, which was published by Amberley Publishing and released earlier this week, looks at bus transport in the city up to 1998 and features images curated by the authors with additional photographs from Bob McGillivray.
Before First Bus Aberdeen, there was Aberdeen Corporation Transport and its successor Grampian Transport, which was run under the department of the Grampian Regional Authority.
Aberdeen Corporation Transport was formed in 1898 when the company first started operating tram routes in the Granite City.
The Corporation bus fleet came to be after the full closure of the tram network in 1958. The trams were burned on the Queen's Links in May that year with only two cars preserved.