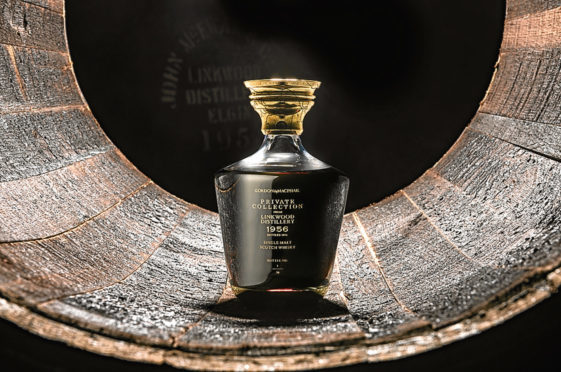 Exceptionally rare whisky that has lain untapped for 60 years is about to go on sale.
The malt, from Elgin's Linkwood Distillery, was laid down in 1956 and is believed to be one of the final casks in the world from the decade.
Now just 53 bottles have been filled with the precious spirit. They will go on sale globally with a recommended price of £22,000 each.
The cask sealed on January 3, 1956, was one of the last to be laid down by John Urquhart, a first generation member from family firm Gordon and MacPhail, which is releasing the whisky for sale.
Mr Urquhart retired the following month and since then the malt has matured under the watchful eyes of firstly his son, George, and then his descendants until the decision was made to bottle it.
Stephen Rankin, from the fourth generation of the family, said: "This encapsulates the company's dedication to the art of single malt whisky maturation."
The whisky was matured in a first-fill sherry hogshead cask for 60 years to give it a chestnut brown colour and is said to boast "rich and warm aromas with highlights of blueberry, fruitcake and dark chocolate".
Bottles have been packaged in a display case with the contours of the landscape near the distillery etched into the gold base and stopper.