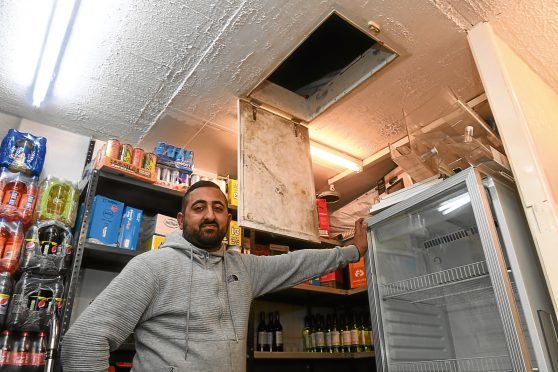 Raiders carried out a Mission:Impossible-style raid on a North-east shop – coming in through the roof before stealing cigarettes and cash.
Staff from Hardings Newsagents in Main Street, Cruden Bay, arrived at work yesterday morning and unlocked the door to find the shop had been ransacked – but they were left scratching their heads as to how the thieves were able to get in and escape with £3,000 of notes and goods.
They alerted police and forensic experts were called in to carry out tests at the scene, before revealing to the shocked shopkeepers that the offenders smashed in the roof and came through the attic to gain entry.
Zahid Ali, who works at the shop and is the son of the owner, said: "It's utter madness. I couldn't believe it.
"They have got up on the roof, kicked in the slates, climbed down into the attic and then came down into the shop."
On the same night, thieves tried to get into another shop in Methlick, but fled empty-handed after damaging a wooden door.
Detective Sergeant George Nixon said: "This type of crime is extremely rare in our communities.
"However, you should never be complacent about security no matter how safe the area you live in is.
"It goes without saying that you should not have to worry about becoming the victim of such a crime and I can provide every assurance that extensive inquiries are under way to trace the person, or people, responsible for these incidents."
On CCTV footage that has been given to police, it can be seen at least two hooded figures wearing dark clothing got into Hardings via the roof at 2.30am yesterday and ransacked the shop for about 45 minutes.
They raided the cigarette cabinet and also stole money.
Mr Ali added: "There were at least three of them – one in the shop, one in the attic and one as a getaway driver.
"We're still looking through the damage to see what they have stolen. It's a horrible thing to happen as it impacts on our business."
The attempted break-in in Methlick was at Costcutter on Main Road.
Charles French, the shop's owner, said: "It looks like they got on the roof and tried to get in but couldn't.
"They have also tried to force their way in through the door but it has steal reinforcing on the back of it. They ripped some of the wood off.
"I'm glad they didn't get in, but I obviously feel bad from the owners of the other shop."
Det Sgt Nixon added: "Robust locks and safes are crucial to keep stock safe, while appropriate alarms and security lights can help bolster security.
"I would also advise against keeping large amounts of cash on the premises and to keep high-value items locked away.
"In addition, I would appeal for you to keep a note of any suspicious people who might visit your business that you don't recognise as being from the area and to let us know if you have concerns.
"It is entirely possible that potential thieves come from outwith the area to check out your set-up beforehand, in particular to establish if there is easy access to cash like ATM machines.
"I would also ask that if you are someone who is out and about at night during the course of your employment and see anything at all suspicious that you call and let us know about it."
Inquiries into both incidents are ongoing and anyone with information can contact police or Crimestoppers.