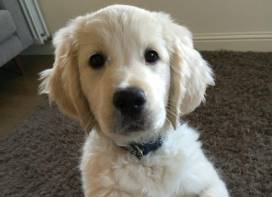 A JOBSEEKER has taken an unusual approach to finding work – by pleading with prospective employers not to let his puppy go hungry.
David Robb, 29, from Cove, had been a subsea controls engineer for eight years until being laid off due to the oil price crash.
His LinkedIn post has a picture of his golden retriever, Monty, and is titled 'Would you like to see this puppy go hungry?'
It even features a quote from his gran, who says: "It's an absolute travesty that somebody as talented, hard-working and likeable as David is currently out of work."
David, who lives with his partner Megan Gair, 27, said finding his puppy sleeping next to his desk sparked the idea.
He said: "I felt I had to do something that would set me apart from all of the other candidates out there.
"I actually woke up at 5am that morning, headed through to the spare room where the computer is and found the dog dozing on the floor and looking sorry for himself.
"I thought what better way to curry favour with prospective employers than to use a cute puppy to my advantage."
The post has attracted a lot of attention with 1,000 views.
David said: "I put the post on early this morning and so far it's had nearly 1,000 views, one from as far away as California! I've had at least 15 phone calls and countless e-mail messages from recruitment agents UK-wide looking to find me work.
"I'm in the market for anything at the moment, whether it be permanent or contract – ideally in the subsea sector in Aberdeen but if I had to try another sector, move away or travel back and forth for a while then I'm sure we'd be able to adapt."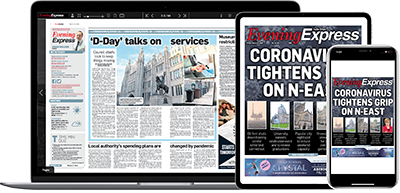 Help support quality local journalism … become a digital subscriber to the Evening Express
For as little as £5.99 a month you can access all of our content, including Premium articles.
Subscribe