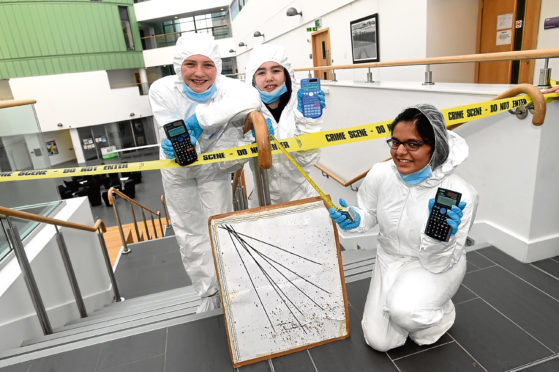 School kids from across the North-east have used their maths skills to add up the evidence of a crime scene.
S2 students from across Aberdeen city and Aberdeenshire participated in TechFest's Maths Masterclass entitled The Mathematics of Blood Spatter – how trigonometry can solve a murder.
The event explored the formation of droplets in blood splatter and how the surface area and volume of a spherical drop can be important in solving the crime scene.
Jenny Taylor, festival organiser for TechFest, said: "There was a great turnout and the kids really enjoyed it and got into it.
"Teaching the importance of maths in your everyday this way isn't something students are usually get in the classroom.
"They are familiar with watching shows on TV like CSI, and this was a way to get them thinking.
"This way it teaches them to see things from a different angle and gets them thinking outside the box.
"The students got a chance to learn how they could use trigonometry to calculate where the blood splatter was directed from at a crime scene."
The Maths Masterclasses 2017/2018 series has run since November and provides an exciting opportunity for pupils to learn different maths topics and hear from industry professionals who demonstrate how the skills can be applied to everyday life using stimulating scenarios.
Chris Gannicliffe, who is lead forensic scientist at the Scottish Police Authority's Forensic Services, helped present the workshop.
He said: "Maths can be an invaluable skill in a forensic investigation. The patterns of blood spatter on a suspect's clothing can provide clues about how a murder was committed, the weapon used and crucially, what role a suspect may have played in the crime.
"This is an interactive look at some of the analysis used by forensic scientists in a crime scene and a great introduction to anyone looking to pursue a career in forensics."
The final masterclass is scheduled for March 10.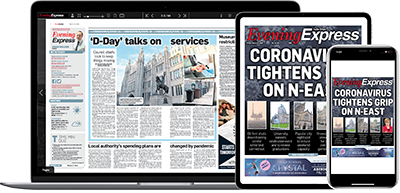 Help support quality local journalism … become a digital subscriber to the Evening Express
For as little as £5.99 a month you can access all of our content, including Premium articles.
Subscribe