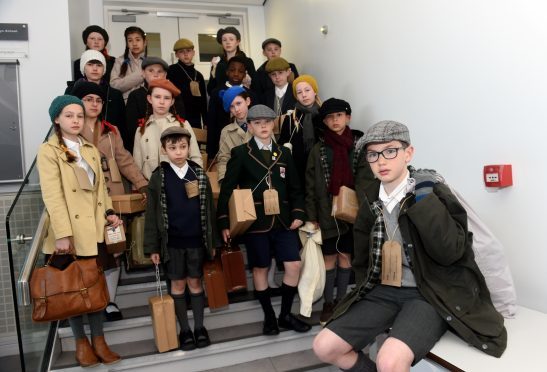 Children from an Aberdeen school have been given an insight into life during World War 2.
Primary seven pupils at Albyn School on Queen's Road experienced what it was like to be evacuated from the inner city to somewhere safe from air raids.
Dressed in 1940s style – complete with suitcases, gas mask boxes and identity labels tied to their jackets with string – the pupils headed to the train station.
On arrival in Inverurie, a billeting officer accompanied them to St Andrew's Church Hall, where they met their host families, who were played by the pupils of Strathburn Primary.
Dr Ian Long, head master of Albyn School, said: "This is a priceless experience for all pupils and staff involved.
"It gives the pupils a real sense of what it was like to be evacuated during World War 2 and gives them an understanding of what they have learned beyond the classroom."
Throughout the day there were a series of activities that were related to the wartime Home Front.
This included playing games from the era such as marbles and cards.
They also visited the Inverurie war memorial and listened to then-Prime Minister Neville Chamberlain's declaration of war on the "wireless".
Following the announcement, they also sang songs to cheer up after news of the war and took part in some Scottish Country Dancing.
Rounding off their day, the pupils returned to the train station after saying goodbye to host families.
Pupil Joanna Patterson, 12, said: "We all got to know each other and did activities such as social dancing and reading Morse code. We also took along some tray bakes to share with our new friends.
"I really enjoyed the day. It was a new experience and something we can remember forever."
Teacher Lynne McHattie said: "It was a really good day and everyone remained in high spirits despite the unpredictable weather.
"It was lovely to see how the pupils had made such good friends with their host families by the end of the day, with lots of hugs goodbye when we were leaving."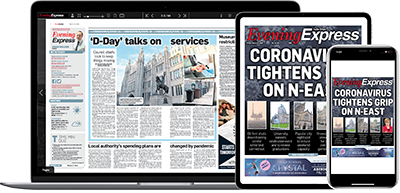 Help support quality local journalism … become a digital subscriber to the Evening Express
For as little as £5.99 a month you can access all of our content, including Premium articles.
Subscribe