People in the North-east who may have contracted the Hepatitis C infection are being urged to get tested.
It is reported a number of people in the region, who received blood products or blood transfusions before September 1991, still haven't come forward for the essential testing.
Left untreated, the Hepatitis C infection can cause liver cirrhosis, cancer or even death.
The measure was recommended by the Scottish Government in the wake of the Penrose Inquiry into infected NHS blood products.
Letters from the chief medical officer Dr Catherine Calderwood have been distributed to clinicians across the North-east, reminding them to offer the test to at-risk groups.
Around 400,000 posters and leaflets will also be distributed to GP surgeries, hospitals, care homes, pharmacies and other community buildings across the country.
Leon Wylie of Hepatitis Scotland said: "If someone thinks they may have had a transfusion before 1992, don't gamble with your health, get tested. Hepatitis C often does not show any real symptoms for many years.
"The good news for people affected is medications can now cure the virus easily. Testing if you even suspect there has been any risk is vitally important.
"I hope there is extensive coverage through this positive action of the Scottish Government and everyone who needs it comes forward for testing."
Scotland is the only country in the UK to have carried out a statutory public inquiry into infected NHS blood products in the 1970s and 1980s.
The Scottish Government is currently in the process of improving the financial support on offer to people who were affected.
Anyone who was seriously ill in hospital before September 1991 and thinks they may have had a transfusion is encouraged to contact the Hepatitis Helpline, their GP surgery or seek advice from the NHS Inform website.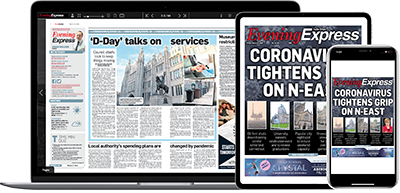 Help support quality local journalism … become a digital subscriber to the Evening Express
For as little as £5.99 a month you can access all of our content, including Premium articles.
Subscribe