Bikes, a wallet and meat were just some of the items stolen in the North-east in the last few weeks after victims left the doors of cars and homes unlocked.
Police have made public a list of incidents in a bid to persuade residents and vehicle owners to keep their belongings safe.
They are concerned that with the clocks having gone forward, bringing lighter nights, people might become complacent about security.
"We tend to find that people who become victims of crime after leaving their property unlocked feel silly," said Detective Inspector Fionnuala McPhail from the CID Proactive Team.
She added: "The message from us is simple – lock up your property and keep your belongings out of sight in vehicles. It sounds simple but the reason we are saying it is because people are not doing it and falling victims of crime."
In one incident on the list, thieves walked through the unlocked door of a garage in Luthermuir and gained entry to a commercial freezer containing several thousands of pounds worth of meat.
They stole £100 of food – and it emerged the garage had been left unlocked and unsupervised from February 23 until March 1.
Det Insp McPhail added: "In one incident, meat was stolen from a garage linked to a shop.
"It was £100 worth but could have been a much higher amount.
"Criminals will take any opportunity to gain an advantage. In this case, it could have been someone who was walking by the garage, noticed it was unlocked and stole the meat."
In another incident on the list, thieves sneaked into an unlocked home on Desswood Place in the west end of Aberdeen at some point on March 4 or March 5 and stole items including a bicycle and a wallet.
In Torry, the owner of a car left the vehicle unlocked when they parked it on Abbey Place on March 11 and thieves broke into it and stole items.
Twice on March 14, thieves stole items that had been left unattended by people in the street. These incidents happened in Union Street and Back Hilton Road.
Det Insp McPhail added: "It is hard to say why this is happening.
"It could be that people, in the past, have felt able to leave their door unlocked and feel they would not become the victims of crime.
"There has been a rise of bicycle thefts and similar incidents and we are appealing for people to contact us if they notice suspicious behaviour.
"On Thursday, officers going door-to-door spoke to a resident who said they noticed someone sneaking around in their back garden, but didn't think to call police. That is the kind of information we welcome.
"In many cases thieves will simply try doors until they find one unlocked, so please don't make it easy for them."
Police said that last Wednesday evening and last Thursday morning, property thefts took place in Albury Road, Spademill Lane, Desswood Place, Claremont Place, Ashvale Place and Whitehall Terrace, all in the city.
In these raids, thieves stole a total of seven mountain bikes, a handbag and photographic equipment.
Det Insp McPhail added: "Over the last few days we have seen a spate of thefts from sheds, garages and vehicles and I would like to remind people to remain vigilant.
"Although the days are getting longer and the weather is improving, security lighting in gardens and near sheds is still worthwhile and can deter thieves, as can a simple shed alarm."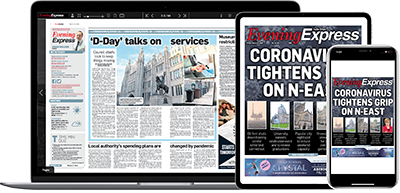 Help support quality local journalism … become a digital subscriber to the Evening Express
For as little as £5.99 a month you can access all of our content, including Premium articles.
Subscribe