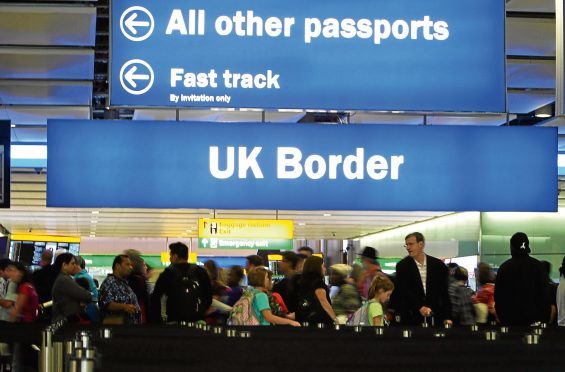 People in Aberdeen do not trust the governments in Westminster or Holyrood to manage immigration, according to a new report.
The findings were by the think tank British Future as part of its National Conversation on Immigration project.
Aberdeen was one of 24 UK towns and cities covered by what the organisation called the biggest consultation on the issue.
Its report said: "Many panel members did not trust the Government to administer border control competently.
"Trust in the Scottish Government to manage immigration with a 'Scottish visa' was an argument used by panel members against devolving immigration powers to the Scottish Government."
In Aberdeen, a lack of trust in both governments does not equate to hostility to immigrants according to the report.
The group held a meeting with 10 representatives from Aberdeen and Aberdeenshire councils, the Jobcentre Plus, universities, charities and community organisations to gather its findings.
It also organised a citizens' panel made up of eight members of the public to represent a range of views on immigration.
Members of the panel took a balanced view, the report said, welcoming the contribution immigration makes to the local and national economy, while some panel members were concerned about the impact on public services such as schools.
Some parents on the citizens' panel were also concerned about the impact that non-English speaking children might have on their children's education.
Overall, however, opinions on integration in Aberdeen were positive.
Most panellists had friends who were immigrants, mainly through their workplaces, and the consensus was that locals and new arrivals had a shared responsibility to make integration work.
The findings will feed into the immigration inquiry run by Westminster's Home Affairs Select Committee.