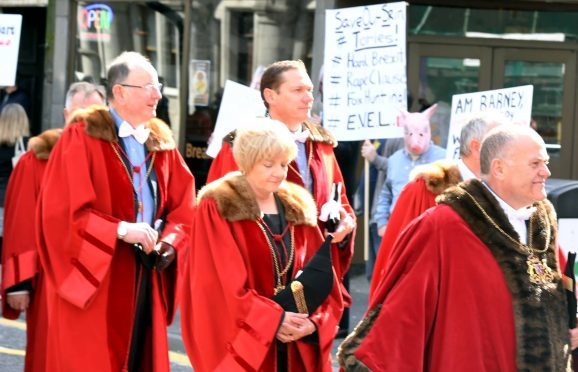 Angry protesters have taken to the streets to brand the new council coalition "a laughing stock".
Leaders of the new Conservative-Labour-Independent coalition came face-to-face with the placard-holding protesters during a civic procession up Union Street.
Around a dozen people took part in the demonstration as officials and councillors attendedw the traditional Kirking of the Council and Service of Dedication to the Common Weal.
The placard-wielding protesters, some of whom were wearing masks, could be heard chanting "Keep the Tories out".
It came after Aberdeen's Labour councillors joined forces with the Conservative and Independent councillors to form a coalition – despite the SNP winning more seats.
Following the controversial deal, all nine Labour councillors were suspended from the Scottish Labour party.
Protester Betty Lyon said: "Labour could not control the council so decided to get into bed with the Tories – it is disgusting.
"Democracy is dead. This city is a laughing stock across Europe."
Placards read "No questions from the public!", "Red Tories, Blue Tories, Na just self serving" and "Jennifer Stewart bought and sold for Tory gold".
Cllr Stewart left the Liberal Democrat Party to become an Independent councillor and joined the coalition, giving it a majority in the Town House.
Colette Snelling, of Torry, said: "The Labour councillors were voted on Labour values and Labour money for the election.
"They were told not to go in a coalition with the Tories or they would be suspended, so went in a coalition just to keep power."
She added: "It is a disgrace."
A man, who did not want to be named, said the situation was "undemocratic".
New Lord Provost Barney Crockett, who led the civic procession from the Town House to the Kirk of St Nicholas and back yesterday, said all the protesters were within their rights to make their opinions known.
Cllr Crockett said: "It was a very, very small number of people. I think people have the right and we are very fortunate to live in a society where we are allowed to express our views."
Conservative leader Douglas Lumsden, who was also part of the parade, said: "There was a very small group of SNP supporters there and they certainly do not represent the majority.
"We want to see all the parties working together for the good of the city."
He added: "For me personally this was a really proud moment. It was the first Kirking Service I have taken part in and first civic event."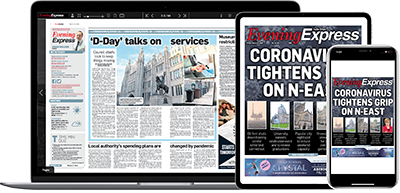 Help support quality local journalism … become a digital subscriber to the Evening Express
For as little as £5.99 a month you can access all of our content, including Premium articles.
Subscribe