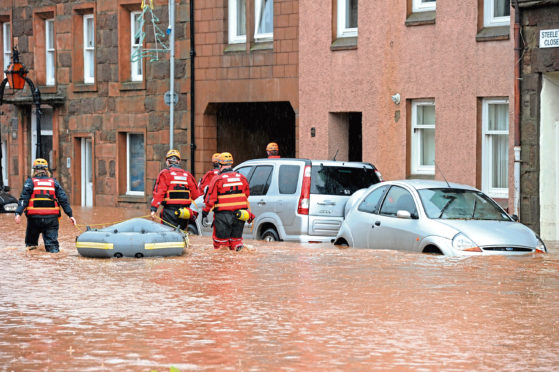 A contractor has been appointed to deliver a £16 million flood protection scheme for a north-east town – with work to begin early next year.
Northern Ireland-based McLaughlin and Harvey Ltd will carry out the work in Stonehaven on behalf of Aberdeenshire Council following a competitive tender process.
Work is now expected to start in the new year and take 24 months to complete.
A community liaison officer has been appointed as part of the contractor's team and will be involved in updating the community as the scheme progresses.
Other major projects the firm recently worked on include the £14 million Water of Leith flood protection scheme (FPS) for City of Edinburgh Council.
Stonehaven's FPS is designed to protect homes and businesses badly affected by flooding events around the River Carron.
Some of the work will see alterations to the five bridges along the River Carron and the construction of flood walls between the Red Bridge and the river mouth.
There will also be a pedestrian walkway constructed from Bridgefield Bridge to the beach.
While it had been hoped work would start this summer, the first stage of the tender process took longer to complete, due to the high level of interest from firms.
Project lead and principal engineer Rachel Kennedy said: "We are well aware many people in the town will be delighted to see this progress – flooding is not a distant memory in Stonehaven and it's hard not to think of it every time it rains heavily.
"The format the contract takes, known as an NEC option C target cost contract, means the financial risk is shared between the council and the contractor to a pre-agreed proportion – sometimes known as a pain/gain mechanism. This should help ensure the project is on budget and on time, though clearly with an undertaking of this size and complexity there can always be unexpected difficulties.
"This and the painstaking design work which has been done up to this point will ensure those are kept to a minimum."
Chairman of Aberdeenshire Council's infrastructure services committee Peter Argyle said: "The council and its contractor are keen to keep the local community informed of progress and to work through any issues as they arise, delivering a flood protection scheme which offers the community security.
"Clearly everyone is keen to see this important protection for the town in place at the earliest opportunity, but it has to be done right, within budget and ensuring we take account of the complex requirements across the scheme area."
The council's policy and resources committee approved funding for the scheme in September 2014.
Landowners directly affected by the works will be contacted by members of the project team to speak about the next steps of the project and what that will mean for them.