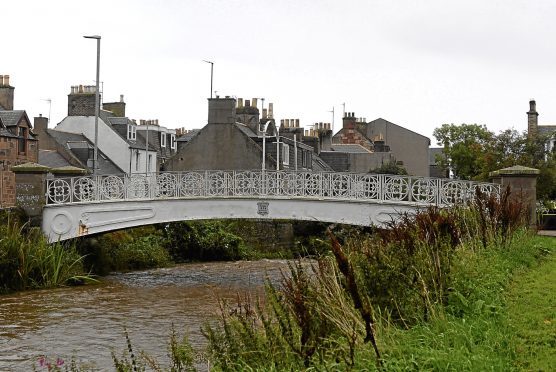 Plans have been lodged to raise a North-east bridge by one metre as part of a flood prevention scheme.
White Bridge, on Cameron Street in Stonehaven, could be demolished and rebuilt a metre higher if plans submitted to Aberdeenshire Council are approved.
The town's £16 million flood prevention scheme was drawn up by the local authority in an effort to ensure the town did not fall victim to the River Carron bursting its banks again in the future.
The project would bring new culverts, 6.5ft-high glass-topped flood walls and a new embankment along the watercourse.
Mott MacDonald Ltd has been engaged by Aberdeenshire Council to develop the Stonehaven Flood Protection Scheme from its current state through detailed design to construction.
Planning documents state: "To facilitate operations of the flood prevention scheme, White Bridge is required to be raised up by approximately 1m to provide the required opening for the Carron Water flood level.
"The proposed structure is a new cast in-situ reinforced concrete arch bridge.
"The span of the proposed structure will be approximately 13.8m and will be supported on new reinforced concrete abutments, which are integral with the proposed concrete flood walls.
"The existing cast iron side arches and wrought iron parapet panels will be removed, retained, refurb-ished, and then attached to the new concrete arch deck to retain the aesthetics of the structure."
The new concrete deck would feature a brushed finish to provide grip to pedestrians walking across.
Planning documents add: "The parapets will be finished as required to tie into the adjoining flood walls.
"Currently the bridge is accessed from either bank via stone steps on the bridge deck.
"Given the increased height of the bridge, additional steps will be required to access the bridge deck, these additional steps will match the existing stone steps currently in place."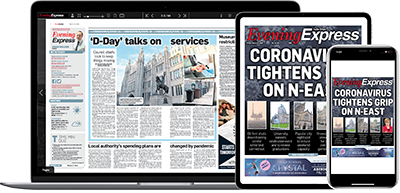 Help support quality local journalism … become a digital subscriber to the Evening Express
For as little as £5.99 a month you can access all of our content, including Premium articles.
Subscribe