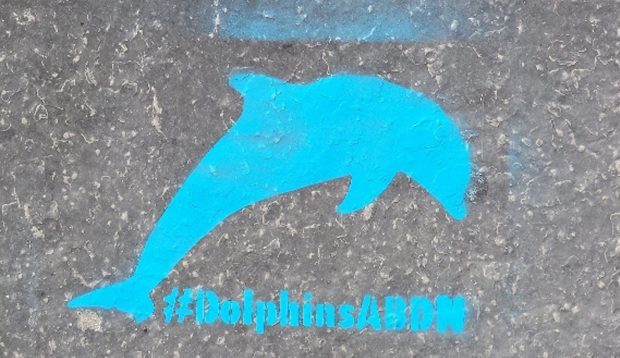 The mystery behind the appearance of blue dolphins across Aberdeen has today been revealed.
People were left speculating about what the cryptic messages could mean as they appeared around the city – with many taking to social media in an effort to find out.
RSPB Dolphinwatch was revealed to be behind the stencils seen on the streets.
Dolphinwatch manager Adam Ross said: "Many people don't realise Aberdeen is one of the best places in Europe to see bottlenose dolphins."
Returning for its fifth year, the project will provide support for those looking to spot dolphins from the city's Torry Battery.
Adam said: "This year's team are really excited to spend their summer raising awareness of this and helping people experience one of Scotland's greatest wildlife spectacles."
The event will run from April 7 until August 20 with staff on hand from Thursday to Sunday every week to assist eager spotters in the Torry Battery car park with telescopes and binoculars.
With dolphins visible on 90% of days the project has run since its launch in 2013, Dolphinwatch provides an excellent opportunity to see the animals.
Nearly 14,000 people have been attracted to the North-east previously with numbers poised to grow, and business development director Jenni Fraser from VisitAberdeenshire believes it will be a boost to the area
She said: "Our proximity to 165 miles of coastline and these fascinating mammals is, of course, a massive tourism draw for the region.
"Having them playing in the harbour just a stone's throw from the city centre is even more impressive."
With 12% of visitors coming from overseas, it is seen as an opportunity to further promote the area to tourists.
Lord Provost George Adam said he looks forward to the event being as successful as previous years.
He said "Dolphinwatch has been a phenomenal success and we are more than delighted it is continuing again. We are very fortunate here in Aberdeen that we can watch these beautiful creatures so close to the shore and near to the city centre, and we look forward to welcoming residents and visitors to Torry Battery with its gorgeous views of our beach."