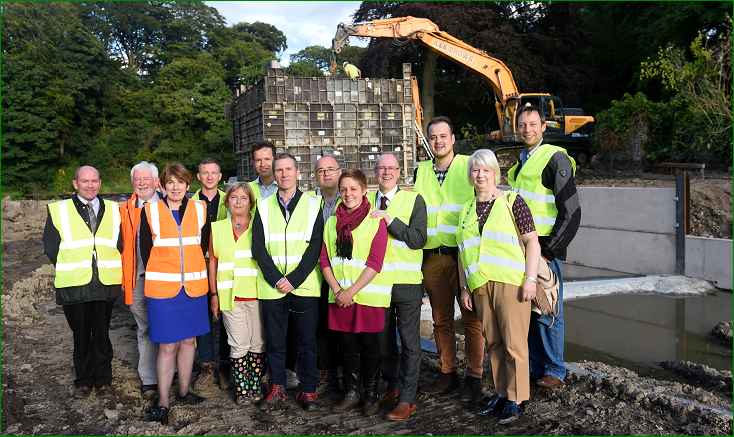 Scotland's first urban hydro energy scheme is said to be coming together "absolutely amazingly".
Aberdeen parliamentarians went to the Donside Hydro Project to gain an insight into how the £1.2 million venture will operate when completed in October.
The group – including Kevin Stewart MSP, Kirsty Blackman MP, Callum McCaig MP and Councillor Ross Grant – were led around the site by director of Aberdeen Community Energy (ACE) Jim Currie.
Mr Currie said: "It's all coming together absolutely amazingly.
"It's all going according to plan despite having tight time schedules."
The proposed hydro scheme will draw water from the River Don to create renewable electricity.
It's expected the project will generate thousands each year in surplus profits for the community fund and enough electricity to power the equivalent of 130 homes annually.
Surplus profits from the initiative will be channelled into a community fund that will be used to achieve social and environmental benefits for local, deprived communities.
The project is led by ACE, a society made up of members of the Donside Community Association.
And during construction, part of the walls from the former paper mill on site in Tillydrone were discovered.
Ms Blackman said: "I think this is a hugely important project for an oil city which built a lot of its wealth from oil and gas.
"We need to do as much as possible to be bringing renewable energies into our communities.
"It looks fabulous, I love the mix of old and new – I'm looking forward to seeing more."
Mr Stewart said: "This is an immense project and it's community driven which is extremely important. That's the most inspiring thing for me – it's community-led.
"I was here about three months ago and there was none of this development here.
"There's obviously been a huge amount of work done."