Probe into suspected fuel spill in Aberdeen park burn
An investigation has been launched following a suspected fuel spill in an Aberdeen park.
Warnings have been issued to dog owners after residents started complaining about a strong smell coming from Gilcomston Burn at Westburn Park.
Staff from the Scottish Environment Protection Agency (Sepa) have been out visiting the site but said it would be a "considerable challenge" to identify the source.
Aberdeen City Council has also been informed of the incident.
Peter Stephen, chairman of Friends of Victoria and Westburn Park, said: "It has came to our attention, through people getting in touch with us to warn others, that there has been a fuel spill.
"At this moment in time, we are unaware of the source of the fuel spill.
"There is very strong smell in the water as well as a rainbow of different colours.
"We are warning dog owners to make sure their dogs do not go into the water until it is cleared up.
"Sepa is currently investigating.
"We hope people will still enjoy the park but just be careful around the water."
The group will continue to check on the state of the spill in the next few days.
---
---
A spokeswoman for Sepa said: "Every day Sepa works to protect and enhance Scotland's environment.
"Sepa received reports of an oily film on the water in the ponds at Westburn Park and we have had an officer out investigating the incident.
"In addition to the natural supply of water which flows into the park, the ponds also take surface water drainage from a number of areas across the city, which pose a considerable challenge when trying to identify the source.
"Investigations are ongoing and we will continue to work with both Aberdeen City Council and Scottish Water to minimise any further impacts to the ponds.
"If anyone is concerned about any incidents of potential pollution please use our online reporting form at sepa.org.uk/report or call our 24-hour Pollution Hotline on 0800 80 70 60."
A member of staff at Aberdeen City Council was also at the park yesterday and thanked the public for bringing the problem to their attention.
Councillor Bill Cormie, who represents the area, said it was important that the source of the fuel was identified.
He added: "It is a beautiful park and I would advise people to make sure dogs do not end up in the water.
"It is concerning to hear about the fuel spill at the Gilcomston Burn and I hope the source of the spill is found quickly."
An Aberdeen City Council spokeswoman said: "We will continue to assist Sepa and Scottish Water with this issue."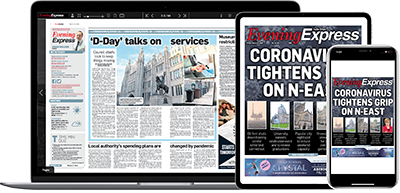 Help support quality local journalism … become a digital subscriber to the Evening Express
For as little as £5.99 a month you can access all of our content, including Premium articles.
Subscribe