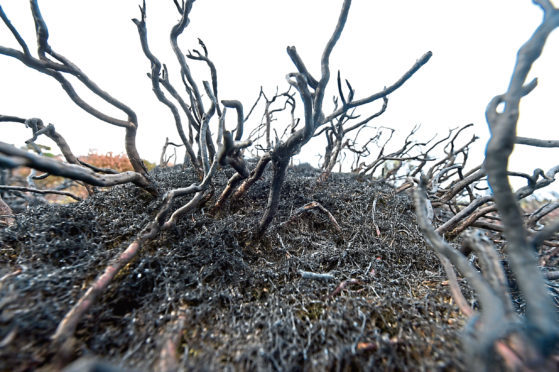 Patrols at an Aberdeen nature reserve that has caught fire more than 10 times in less than a week have been stepped up amid suspicion they were started deliberately.
Firefighters have made daily trips to the Gramps area of the city to deal with significant gorse blazes since Friday last week.
And although there is currently no evidence of wilful fire raising, the fire service have said they suspect the recent spate of blazes were started deliberately.
At about 11am yesterday, teams were once again called out and spent several hours extinguishing a fire on the hillside.
While many of the fires in the area have been relatively small, some have sent huge clouds of smoke billowing over the city.
Parts of the hillside have been scoured of vegetation.
So far, no evidence of foul play has been found, but last night Scottish Fire and Rescue Service group manager Darren Riddell said: "We don't believe in coincidence".
Before last Friday, fire crews had been called to the Gramps – also called Tullos Hill – eight times this year – a number of those instances at the height of the summer heatwave.
Mr Riddell said police were now investigating the source of the blazes and urged walkers in the area to be careful with open flames.
He said: "We understand it can be distressing and worrying for the community when they see these fires.
"We can confirm we are working closely with Police Scotland to identify the cause of these incidents and take appropriate action.
"It is important that people are aware the ground is still very dry following the recent period of hot weather we have experienced. Please do not discard lit cigarettes, do not start campfires, take rubbish home and do not drop litter in the area.
"Although there has been no evidence of criminality, we do not believe in coincidences. These fires have all been started at the same times in the same areas.
"Therefore police have stepped up patrols.
"The Scottish Fire and Rescue Service will work closely with the police to identify any individuals setting fires deliberately and to bring them to justice."
The Gramps fires have caused severe damage in an area filled with wildlife including deer.
The flames also encroached on the ancient Crab Cairn, a Bronze Age burial site dating back 4,000 years. Thankfully firefighters have been able to prevent any damage.
An Aberdeen City Council spokeswoman said: "A fair amount of Tullos Hill has been affected by the recent fires, with approximately one hectare of heathland and an estimated 50 trees lost or damaged.
"The visible part of the Crab Cairn was unaffected, largely due to fire service efforts, but the fire was on three sides of the cairn and within the scheduled monument area.
"Our countryside rangers assisted SFRS colleagues with managing access to Tullos Hill and ferrying equipment and staff.
"Staff will continue to work with the fire service to reduce further impacts of the fire."
Anyone with information about the Gramps fires is urged to call the police on 101 or Crimestoppers anonymously on 0800 111 555.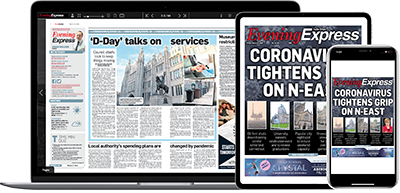 Help support quality local journalism … become a digital subscriber to the Evening Express
For as little as £5.99 a month you can access all of our content, including Premium articles.
Subscribe