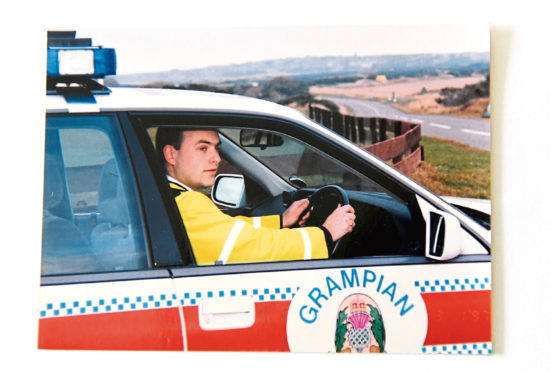 A long-serving police officer who beat Aberdeen "bouley bashers" has retired after 30 years of service.
Chief Inspector Kevin Wallace has said a final "goodbye" to Police Scotland, but the job will stay in the family – as his two sons Aynslie and Cameron followed their father into the force.
In his three decades serving the north-east, starting when he was 18, Ch Insp Wallace trained as a traffic patrol officer, a firearms officer, a hostage negotiator and a road crash investigator – and trained junior officers at the Scottish Police College.
One of his achievements as a community officer was tackling antisocial behaviour problems caused by the so-called "bouley bashers" – groups of boy racers who would gather at Beach Boulevard in Aberdeen and race their vehicles through the streets.
Reflecting on that period, Ch Insp Wallace told the Evening Express: "In those days, the internet wasn't as developed, so the Boulevard was the place where boy racers would meet with like-minded individuals – the downside was we had a lot of cars with noisy exhausts and youngsters driving their cars dangerously at speed and showing off.
"It led to ongoing issues for years which people who visited the area did not like. We set about doing something about it and, over time, managed to make a change.
"We had meetings with the community and the drivers, dealt with offences and put controls in place.
"It ended up leading to a court case coming through locally and the case went to the European court and was confirmed. As time has gone on, that work has continued to benefit the area."
For that work, Ch Insp Wallace's team received a Chief Constable's Excellence Award.
During his time with the police, Ch Insp Wallace has made lifelong friends through a force football team and its pipe band.
"One of the things I've loved is the camaraderie, and I always enjoyed spending time at the training college when I was based there," he said.
---
---
It was during those days at the college that Aynslie and Cameron got their first taste of police life.
Cameron works on the staff at Kittybrewster Police Station.
His brother, Aynslie, has been a Pc for three-and-a-half years and is based at Northfield Police Station.
Aynslie said: "As kids, my brother and I spent a lot of time at the college and we had the chance to go out in the cars and on the bikes.
"It probably was from that kind of age that I thought police would be a good career path, so I could follow in dad's footsteps.
"There's always times when I've asked my dad for work advice because of his years of experience and my brother has too. It's a great help."
He added: "I'm certainly proud of my dad's achievement and wish him all the best in his retirement."
Ch Insp Wallace said: "It's great that my boys are employed in an organisation which values their staff, and I wish them well. If they have half the fun I've had, they'll love it. It's a great job."
In his retirement, Ch Insp Wallace said he plans to buy a motorhome and visit beauty spots in Scotland with his wife Adele.
"It has been a tremendous job for me and I would recommend it to anyone.
"I want to thank my family and all my colleagues for their support."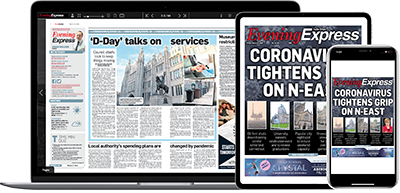 Help support quality local journalism … become a digital subscriber to the Evening Express
For as little as £5.99 a month you can access all of our content, including Premium articles.
Subscribe