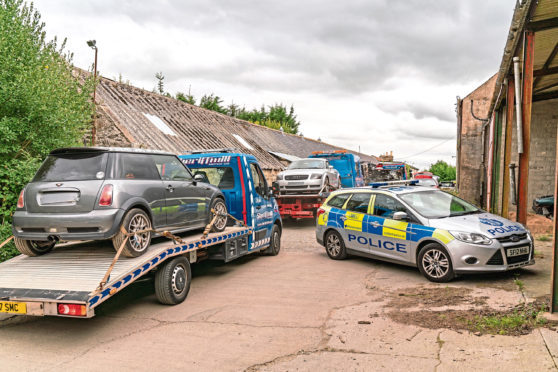 Police have raided a north-east farm in connection with drugs and stolen property.
A search warrant was executed by Police Scotland at the site, at Drumdelgie Cottages in Cairnie, Huntly, but no arrests have been made.
Police Scotland warned that officers could remain at the site for a number of days, due to the size of the search required.
A police spokeswoman said: "Inquiries are ongoing, and there have been no arrests at this time."
A nearby gym, Huntly Strength and Conditioning, issued a warning to their customers.
A spokesman told customers: "Due to an ongoing police investigation at the adjacent premises, please park at the top of the hill and not outside the shed.
"Make yourself known to officers prior to going into the gym.
"We won't be able to use the keg toss owing to its proximity to the premises under investigation."
Police Scotland could be seen recovering several vehicles from the property, including a Mini Cooper and Audi TT and several motorbikes and jet skis.
One flat bed truck was also carrying what looked to be a car engine.
Other vehicles were seen to be carrying tarpaulins, however, it is unknown what was under them.
The farm which was raided used to be owned by Grampian Country Chickens, a division of Grampian Country Foods, which was sold to a Dutch corporation in 2008.
Grampian Country Foods, which was set up in the north-east by a farming family, ran into financial troubles in the 1990s, before being sold to Vion NV, based in the Netherlands.
The unit was taken over by a local landlord, and has been occupied by a number of different people since it changed hands.
It is understood that the current occupiers were only in the unit for around one month before yesterday's raid.