Detectives are hunting a gang of up to five men who could have caused an explosion in a raid on a cash machine in Aberdeen.
All dressed in black, the gang targeted the cash machine at the Spar shop on Clifton Road at 1.50am – when the shop was shut – and fled empty handed.
Officers leading the investigation spent much of yesterday speaking to witnesses and studying CCTV in a bid to track down those responsible.
They have told the Evening Express footage of the incident has shown scores of cars passing by while the raid was in progress – and people driving those vehicles could hold the key to cracking the case.
Detective Inspector Fionnuala McPhail said: "We are looking at up to five people in dark clothing and a dark Audi Q5 S-line vehicle, which was seen in the area around 1.50am.
"From speaking to witnesses, we believe this group – or individuals from it – were in the area from 11pm on Monday evening up until around the incident itself, so we would like to hear from anyone who spotted anyone acting suspiciously in the area to get in touch with us.
"This was a rather crude attempt to gain entry to the ATM, which caused damage to it.
"The method they used to attack the ATM is unclear. Several people said they heard loud bangs around that time which could have been an explosion. What we are sure of is that their vehicle was not used to crash into the shop as there are no signs of any structural damage."
Det Insp McPhail added: "The footage we have seen shows that there were plenty of vehicles travelling along Clifton Road while the incident was happening.
"We are keen to hear from any of those drivers and to receive dashcam footage and private CCTV footage and to hear from anyone with information that we haven't yet spoken to. I would like to reassure residents that this is a rare kind of crime in the North-east and we are operating additional uniformed and plain-clothed patrols in the area."
CJ Lang, the firm which owns the store, declined to comment.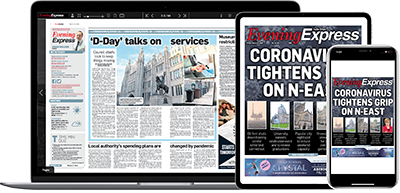 Help support quality local journalism … become a digital subscriber to the Evening Express
For as little as £5.99 a month you can access all of our content, including Premium articles.
Subscribe