Police are continuing to appeal for information after a man stalked a 16-year-old girl before trying to pull her into a lane in Aberdeen.
The incident, which happened in broad daylight, prompted a police manhunt involving sniffer dogs, but they were unable to find the attacker.
Officers were made aware of an incident in the Corse Avenue/Kingswood Drive area at around 12.30pm – 1pm on Saturday during which a man in his 40s to 50s approached the 16-year-old on the street and grabbed her arm.
The girl was not injured and nothing was taken from her.
A number of lines of inquiry are currently being pursued to identify the individual involved, with high-visibility patrols being carried out in the area.
Aberdeen teenager's terror as man stalked her for 15 minutes before trying to pull her into dark lane
Detective Inspector Allen Shaw said: "Once again we want to stress just how unusual incidents of this nature are in the city let alone a community like Kingswells, therefore it is crucial we get as much support as we can from people who live in the area to assist with our investigation.
"A number of lines of enquiry are being pursued assisted by CCTV work and extensive house-to-house enquiries. I would like to thank the members of the public who have provided information already for their assistance and ask anyone else who thinks they might be able to help to contact Police on 101 quoting ref. no. 2137 of July 7.
"Were you in the Kingswells area on Saturday and see a man described as being in his 40s to 50s and of a very slim build with gaunt features? We understand he was wearing a black baseball cap, dark framed glasses, a blue and red striped shirt and blue jeans and may have walked a route covering Kingswood Drive, Corse Avenue, Corse Gardens and Corse Wynd. The weather was extremely nice and it may be you were out washing the car or in the garden – did you see anyone matching this description throughout the day?
"I would also ask anyone with business or residential CCTV of the area, or dashcam footage, to please get in touch if you have not been spoken to by officers already."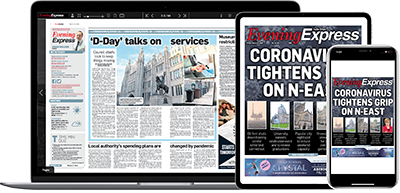 Help support quality local journalism … become a digital subscriber to the Evening Express
For as little as £5.99 a month you can access all of our content, including Premium articles.
Subscribe