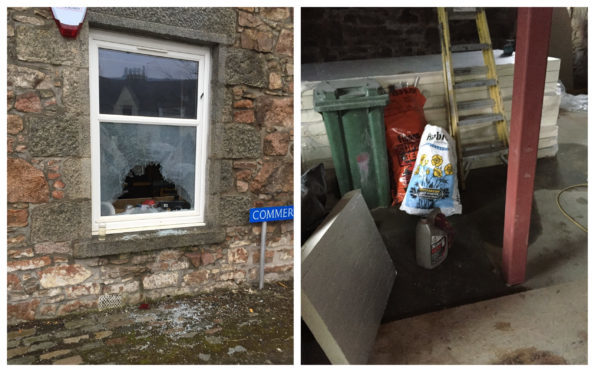 Police are continuing to appeal for information after a window of a north-east hotel was smashed and a canister of fuel thrown through.
They are looking to trace two men who were near the The Station Hotel, Insch, last month in the hope they could assist with enquiries.
North-east hotel owner hits out at 'sickening' act after attempted petrol bomb attack
Officers were made aware of an incident at the Commercial Road property, which occurred between 7.20pm on Monday March 26 2018 and 7am on Tuesday March 27.
Detective Constable Megan Willox, who is leading enquiries, said: "As it stands this incident is still being treated as a vandalism and I would like to take this opportunity to stress that there was no potential threat to the building.
"Following enquiries we have identified two men we would like to speak to who we understand were in the vicinity of the Station Hotel that night between 9.30 and 10pm.
"They are described as being in their mid 20s to early 30s, slim build, dressed in dark clothing and wearing hats. In addition to this, we would like to identify two males observed walking on Commercial Road around 2.45am on Tuesday March 27. These males are of slim build, wearing hooded tops carrying a large plastic container.
"Was this you? Or if you know who these males might be, please get in touch with Police on 101 using ref. no. 0485 of March 27. Alternatively you can contact Crimestoppers on 0800 555111."