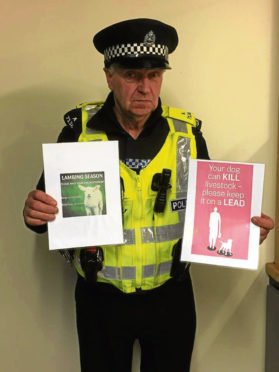 Dog owners are being urged to keep their pets on a lead to avoid more sheep-worrying attacks in the North-east.
In recent incidents, a husky-type dog attacked sheep in Netherley on March 2, killing five sheep. In a separate incident, another dog attacked sheep in Stonehaven, though no sheep were injured.
There have been other incidents this year in Leslie, Cults and Buckie.
To reinforce the message, Special Constable Hugh Duncan, pictured, spoke at the latest meeting of Portsoy and District Community Council.
After the meeting, Sc Duncan, of Banff community policing team, said: "All it takes to avoid this distress is to keep dogs on leads or under control, and for owners to take the necessary steps to ensure they cannot run loose.
"My advice to anyone walking and exercising their dogs in the countryside is to ensure they are constantly under control and to avoid going into fields where livestock is grazing.
"I would urge the public to continue reporting sheep-worrying incidents to police in order for them to be fully investigated.
"It is important we all recognise the devastating consequences of a dog attacking, chasing or even being at large in a field where sheep are kept.
"Anyone with concerns about livestock worrying can contact 101."