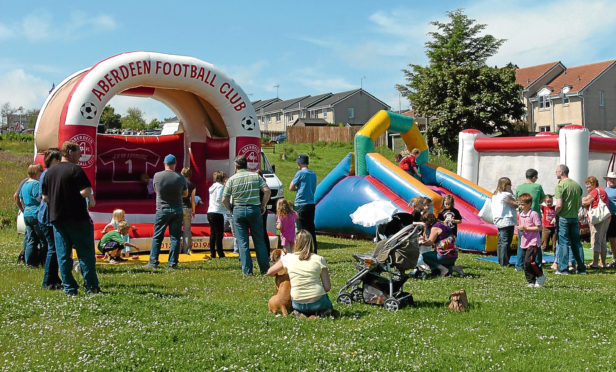 Organisers of a popular North-east community event are looking for more volunteers to help keep it running smoothly.
Skateraw Fair in Newtonhill began as a small gala celebration before World War 2, and it re-emerged in 1977 as an 'It's a Knock-out' competition.
In 1980 an official committee for the event was set up, and the name was changed to the Skateraw Fair.
Lynne Riach, treasurer of the Skateraw Fair group, said: "The fair runs every year and every year we struggle to get new volunteers.
"There's a core group of us that work away doing various events. We're not expecting people to man a stall for three hours, we're just looking for people to help out for maybe an hour here and there, and to help set up – we want to promote the community spirit in Newtonhill.
"It's hard to get people involved."
The committee members are busy with preparations from January, and are looking for extra volunteers to ensure that the fair can still go ahead and run as smoothly as possible.
Lynne added: "The people in our committee have been members for about three or four years now.
"We get the odd new volunteer, last year we had two new volunteers, one stayed and one didn't.
"We need new volunteers to bring fresh ideas to the table as well.
"It's hard for us to reinvent the fair."
One of the issues the committee has is that they don't have the manpower to be able to put new ideas into action, as they have to try to gather enough people to man the various stalls.
Lynne said: "We want to put on as good a fair as possible.
"All the main roles are covered so it's not about taking responsibility, it's just about helping out.
"It's a shame if we have ideas and we can't look into them because we just don't have the manpower."
The fair is held in and around Newtonhill Bettridge Centre on the last Saturday of June each year.
Anyone who would like to get involved, even if only for an hour or two rather than the whole event, should get in contact with the Skateraw Fair organisers via the group's Facebook page.