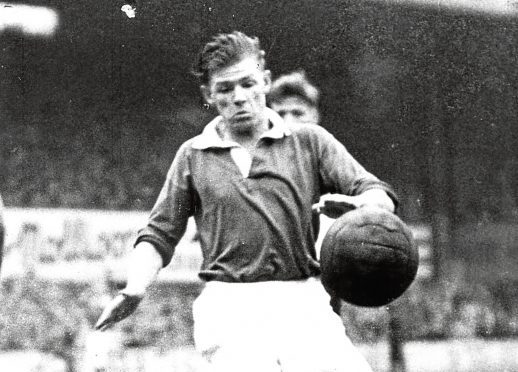 Tributes have been paid to a league-winning Aberdeen footballer who has passed away.
Left back Dave Caldwell was a member of the famous Dons team that won the league in 1955, and he also played a key role in securing the Scottish League Cup the following year.
The Dons hero passed away earlier this month at the age of 85, following a battle with Alzheimer's.
He leaves behind his daughter Diane Wozniak, 61, and son David Caldwell, 57.
Diane said: "He was a gentleman. He was always willing to help out other people.
"He lived across the road from the hospital and used to take the newspaper up to his friends in there every day.
"He was always really good with people. He was always laughing and joking – you'd never know whether the story he was telling you was true or not."
Dave passed away on August 2 at Balmedie House Care Home, and Diane had nothing but praise for the home's staff.
She said: "My dad got superb care in there.
"They were absolutely brilliant with him."
Diane said Dave, who met his late wife Eleanor Jane Caldwell while playing in Aberdeen, had a collection of medals he won during his playing days with the Dons.
But she said he had not kept in touch with his team mates after they all ended up going different ways.
After 131 appearances with Aberdeen, Dave left for Rotherham United but went on to play for Toronto City in Canada before returning to the North-east and signing for Fraserburgh.
While at Toronto Dave earned plaudits from Real Madrid treasurer Don Raimundo Saporta, after a game during which he kept Francisco Gento – the fastest winger in football – in his pocket as his team and the Spanish giants clashed in Vancouver.
A spokesman for Aberdeen FC said: "Everyone at the club was saddened to hear of Dave's passing and our thoughts are with his family and friends at this sad time."
Despite his successful playing career, Dave was never one to sit and watch a game, finding it difficult to enjoy as a fan without analysing it.
Diane said: "He always said that he looked at a game from a technical standpoint.
"He used to say 'he should have been marking him', or 'he shouldn't have been standing there'."
Dave battled his condition for a number of years before it ultimately overcame him.
Diane said: "He had Alzheimer's probably for about seven years.
"He was doing about 100 sit-ups a day at 80.
"He would run on the spot for 20 minutes using tins of beans as weights.
"He had the ability of a 50-year-old.
"At the end he still wanted to maintain his weight but he just wasn't able to.
"Alzheimer's is a horrible, horrible disease.
"My dad thought he'd been to the moon and Mars and would explain how he got there," she said.
"He remembered who I was pretty much."
Diane suspects Dave's playing success may have come at a very high cost, and ultimately contributed to his illness.
She said: "We do wonder if he got Alzheimer's from heading that leather ball for all those years.
"I definitely think that with footballers nowadays, there's much more health and safety than when my dad was playing."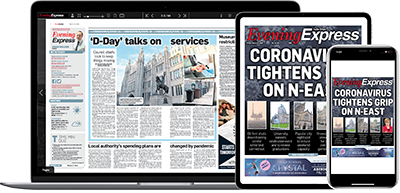 Help support quality local journalism … become a digital subscriber to the Evening Express
For as little as £5.99 a month you can access all of our content, including Premium articles.
Subscribe