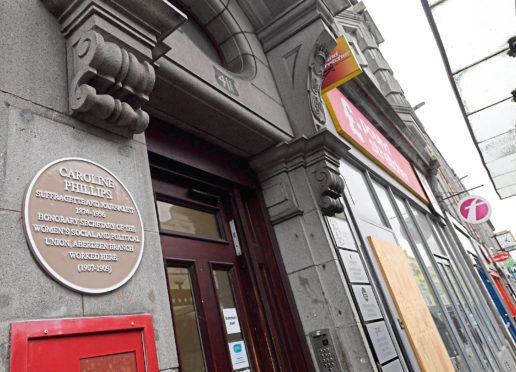 A plaque has been unveiled on Union Street to honour a brave Aberdeen suffragette and journalist.
Aberdeen Women's Alliance led the bid to install the plaque to Caroline Phillips – who defied newspaper bosses to campaign for votes for women in the early 1900s.
Ms Phillips worked in the building – at 41 Union Street – while she was secretary of the local Women's Social and Political Union (WSPU) branch between 1907 and 1909, during which she corresponded with key figures such as the Pankhursts.
Professor Sarah Pedersen said: "It's great and exciting to see it up there. Caroline really deserves it.
"She was such a brave woman to be a leading suffragette and putting her job on the line as they (her bosses) did not like it at all."
Ms Phillips was a reporter at the Aberdeen Journal, a forerunner of the Press and Journal, seen as an unusual job for women at the time.
She was born in Kintore in 1870 before moving to the city with her family in 1874.
Her correspondence, including with the Pankhursts, is archived in Aberdeen Art Gallery in the Watt collection.
There was tension between Caroline and the Pankhursts after she was hesitant to attack the Music Hall when Chancellor of the Exchequer, Herbert Asquith, visited in November 1907.
---
---
A brief biography of her, contained in council papers, said: "Although Caroline was not opposed to violent protest, her own actions were peaceful.
"She would walk round golf courses at dawn, replacing each flag with a 'Votes for Women' flag."
It added that in 1912, she inherited the Station Hotel, Banchory, from an aunt.
She gave up journalism and left Aberdeen to run the hotel.
So pleased to see the plaque for Aberdeen #suffragette and @pressjournal journalist Caroline Phillips finally installed on Union Street! pic.twitter.com/M5AYFTMWSL

— Prof. Sarah Pedersen (@SarahPedersen2) April 16, 2019
When she retired she moved back to her home village of Kintore, where she is buried in the Watt family plot in the village after passing away aged 85.
Meanwhile, Prof Pedersen said she hopes more plaques will be erected around the city honouring notable women, including Aberdeen suffragist Louisa Innes Lumsden.
Dame Lumsden, who was born in Aberdeen in 1840, was a pioneer of female education and latterly the first warden of University Hall, University of St Andrews.
Prof Pedersen added: "We have a little bit of funding and are hoping to get another plaque to the suffragist Louisa Innes Lumsden.
"We don't want to forget the suffragists and she was an incredibly impressive woman."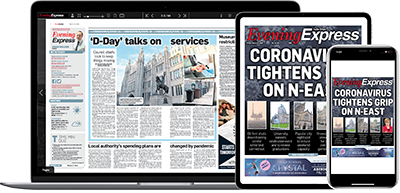 Help support quality local journalism … become a digital subscriber to the Evening Express
For as little as £5.99 a month you can access all of our content, including Premium articles.
Subscribe