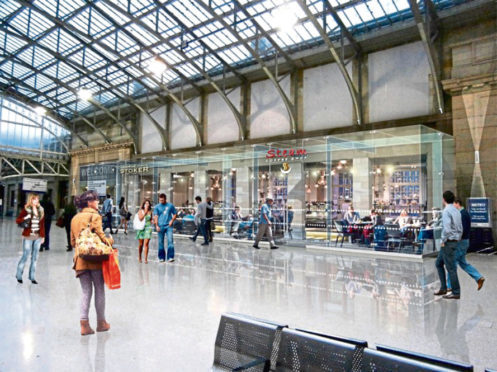 Plans have been lodged to revamp the entrance and historic pavilion of Aberdeen Railway Station, as part of multi-million proposals to breathe fresh life into the site.
Abellio Scotrail Limited has applied to Aberdeen City Council to change the use of the existing ticket office and first class lounge, located within the station.
The company has also tabled plans to restore the north entrance pavilion, the main access point from Guild Street, and change its use.
The firm has applied for a change of use to either shops or food and drink, which they have said will allow the ground and upper floor levels to be used for "hot food or restaurant use".
A design statement for the plans said the north and south pavilions are important buildings as they formed part of the original Joint Station, which was opened in 1917.
It said: "They are a tangible link to the period of time of great rail usage and the days of steam locomotives and grand terminals and hotels.
"The re-use and restoration of the north pavilion will greatly increase its social value.
"Once again people will interact in a positive manner with the north pavilion and understand why it still exists."
The proposals would see a full condition survey carried out, with minor slate repairs expected, and a steam clean of the granite.
The plans state the proposed changes are not significant nor are they "excessively damaging" to the existing historic fabric.
A lift is proposed within the building.
Plans have also been lodged to create a clearer entrance through improved signage.
A statement said:"Without local knowledge, or previous experience, the Union Square Station entrance can be difficult to identify.
"A number of factors impact the legibility of the entrance, including the scale of neighbouring developments, low-contrast signage and inactive ground floor use."
The firm confirmed last year that it was planning a multi-million pound refurbishment of the main concourse.
Their plans involve introducing a variety of new retail options and brightening up the amenities.
Designs of the proposals, revealed in November, show glass-fronted restaurants in the concourse, modernising it to be more in keeping with the Union Square shopping complex.
ScotRail Alliance programmes and transformation director Ian McConnell said: "The investment we are making – the high-speed trains connecting Scotland's seven cities, the Aberdeen to Inverness improvement programme, and the redevelopment of Aberdeen station – means it's an exciting time for this part of the country.
"This investment will improve the service we offer to our customers and support the local economy.
"Aberdeen station is central to our plan to build the best railway Scotland has ever had."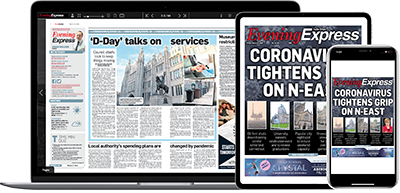 Help support quality local journalism … become a digital subscriber to the Evening Express
For as little as £5.99 a month you can access all of our content, including Premium articles.
Subscribe