A North-east town's church is asking for help to restore an 18th century bell to its former glory.
St James' Episcopal Church, in Stonehaven, is searching for £18,000 for the repair.
The bell was discovered during maintenance of the roof, sitting in the rafters of the church.
When the steeplejack retrieved it, a marking revealed that it was made in 1788.
The crowdfunding efforts are due to be launched at a special Mothers' Day service on Sunday, March 11.
The church's plan is to have the restoration complete by Remembrance Day.
A campaign has been launched to have church bells ring out across the UK in commemoration of the centenary of the end of World War 1, mirroring the events at the end of the war.
David Fleming, the church's Building Projects leader said: "We didn't know it was up there. When you look up into the bell tower there's not a lot of lighting.
"The bell itself is in good condition, but the mechanism that makes it roll over was iron and is badly rusted.
"The steeplejack was quite scared that it would come down."
Money raised will go towards cosmetic work on the bell, as well as fully restoring the mechanism.
Beams that the bell had been resting on will also have to be replaced.
David added:"100 years ago, on the 11th of November, all the bells in the land were rung in celebration of the Armistice.
"What I would like to do would be to ring the bell once for each casualty of the First World War from Stonehaven."
The church will be the host of this year's commemoration parade in honour of Remembrance Day.
The bell itself was originally housed in the Episcopal Chapel on Stonehaven's High Street, but was moved, following the chapel's demolition, to St James' in 1885.
David said: "It's 230 years old, it's got a great deal of historical significance for the town."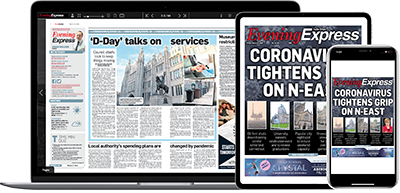 Help support quality local journalism … become a digital subscriber to the Evening Express
For as little as £5.99 a month you can access all of our content, including Premium articles.
Subscribe