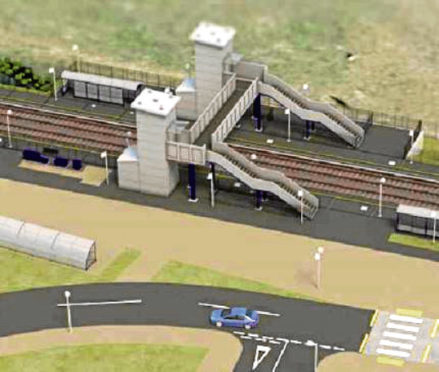 Plans have been lodged for a new railway station in a north-east town – more than 50 years after the last one closed.
Network Rail wants to build the facility, which would have two new platforms, at Kintore.
The transport body has submitted plans to Aberdeenshire Council and, if approved, the station would be in the north of the town beside the B987 and Northern Road.
Network Rail says the station would have a "positive transformational impact on the area".
It would be the first new rail station in the north-east since 2009 when the £3 million Laurencekirk platforms opened.
Along with the two new platforms, a footbridge linking them would be built – as well as waiting shelters, seating and a car park for 168 vehicles. According to planning documents submitted to Aberdeenshire Council, the local authority will be responsible for the nearby car park and transport facilities including a new vehicle access road and pedestrian path.
Kintore railway station has been closed for 54 years, after being in operation for 110 years – opening in 1854.
A Network Rail spokesman said: "With plans for the new station now submitted we look forward to continuing to work closely with both the local authority and Nestrans to progress this important project."
Colin Clark, MP, who represents Gordon, welcomed the plan, and said: "Kintore has not been served by a train station for about 50 years, so I'm sure the fact that plans are moving forward will be very much welcomed by residents.
"The north-east of Scotland really lags behind other parts of the country when it comes to rail infrastructure, but we are finally seeing signs of progress.
"This has been talked about for a long time and I hope that the project can still be delivered by the originally planned completion date of 2019."
In a letter to the local authority planning department Network Rail said: "Aberdeenshire Council and Nestrans have been working together for a number of years on the re-opening of the station.
"The project will offer a sustainable travel choice on the Inverurie to Aberdeen corridor, an area which is planned for significant development and population growth in the coming years.
"It is anticipated the availability of a station in Kintore will have a positive transformational impact on the area."