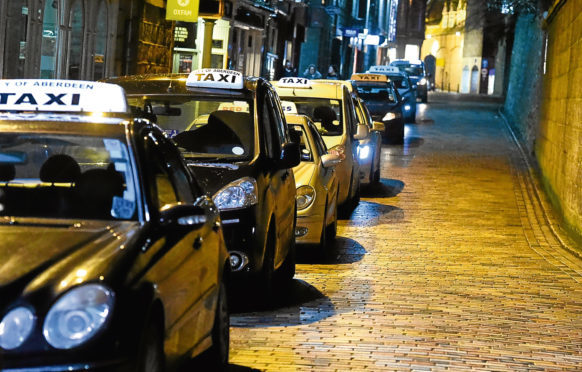 A consultation is set to be launched looking at whether to raise taxi fares across the city by 5% – the first rise in seven years.
One of the two proposals under consideration is increasing the basic tariff from £2.40 up to £2.52 for the first 950 yards, with the second option to keep the fares at their current level.
Under new proposals, the basic tariff for every additional 180.5 yards would also rise from 20p to 21p.
Members of Aberdeen City Council's licensing board are being asked to agree to put both options out to consultation when they meet on Tuesday.
Taxi trade representatives have indicated they could propose a higher increase when councillors meet next week.
Russell McLeod, managing director of Rainbow City Taxis, said: "I think it's something that has to be looked at.
"December 2011 was the last increase. Given the circumstances, I think the trade would be supportive of any kind of increase at the moment.
"Given the length of time since the last, it's long overdue as far as I'm concerned. Every time it's needed reviewed up until now, the trade has said it was happy with the status quo – but we are almost seven years on."
A report to the licensing committee said representatives from the taxi trade appreciated it was "never a good time" for the public to be asked to pay more.
It added: "The trade representatives agreed to arrange to meet and further consult their members on whether to back option A or option B or indicated they could propose a higher increase."
Graeme McColl, chairman of Aberdeen Taxi Group, said: "We have had a trade meeting about it and the trade support the rise of 5%.
"The trade realise that although Aberdeen isn't particularly buoyant, there hasn't been an increase in the past seven years.
"There will never be a good time for it, it's not a particularly large rise but it's enough with costs for everything going up."
The local authority reviews fares every 18 months but has not increased them since 2011.
The licensing report said drivers' costs have increased by 5.09% between 2016 and 2018 from total estimated costs of £42,991 to £45,123.
This includes a predicted increase of £2,459 to £2,630 for fuel costs.
If councillors agree to begin the consultation next week, a report will be submitted on the outcome of the consultation.
A final decision on future fee levels would need to be adopted from June 26.