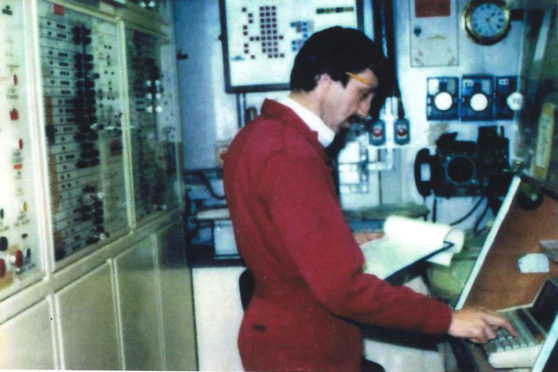 A survivor of the Piper Alpha disaster which killed 167 men has spoken of how writing a book uncovered the true impact on his family.
Geoff Bollands was the nightshift control operator on July 6 1988 when the Piper Alpha oil platform exploded.
Mr Bollands was among 61 survivors and said there was a six-hour period between when his wife Christine first heard of explosions in the North Sea and her discovery that he had survived after being taken to Aberdeen Royal Infirmary with hip injuries.
At the time the couple's three children, Rachel, Hannah and Paul, were aged 15, seven and six.
Mr Bollands has since given more than 150 talks to groups around the world about his experiences.
To mark today's 30th anniversary of the disaster, Mr Bollands has now published a book about his recollections of the tragedy, and said reading a chapter written by his wife Christine has revealed things he did not previously know.
Now 70, Mr Bollands, of Middles-brough, said: "It was a shock in some respects for me to read what she had written, as it is the first time she's ever opened up about what was going on within the family after the disaster.
"Looking back, I know I was very quiet and reserved due to the shock of what had happened, and at other times I was aggressive and unpredictable.
"I inhaled a lot of smoke on the night of the disaster and she had concerns about my chest and wanted me to get my physical health checked out
"She also wanted me to have my mental health assessed and my attitude was very much to brush it off, even though I was later told I had post-traumatic stress disorder.
"I can see all these years later that we didn't really speak about it so it was very surprising for me to learn her thoughts and feelings."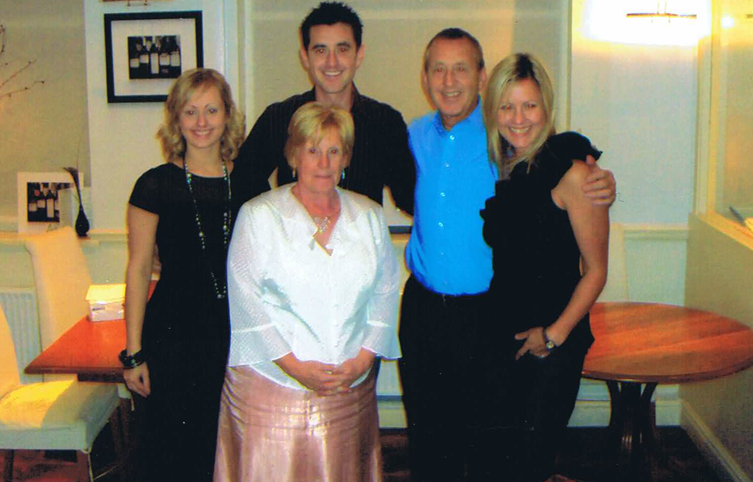 In the book, called Baptism of Fire, Mrs Bollands talks of how she had been told her husband was "missing, presumed dead" until she received the news he had made it through.
Even as Mr Bollands was recovering from the experience, family life was hard and he recalled an incident in which he insisted on leaving a shop when a public address system sounded as it gave him flashbacks to the disaster.
These are the names of the 167 men who tragically lost their lives in the Piper Alpha disaster
The family received hate mail – including on one occasion where a man personally delivered a letter questioning why Mr Bollands deserved to be alive. Despite the challenges recovery posed, Mr Bollands was able to rebuild his life.
He spent four years attending inquiry hearings into the disaster before training as an independent financial adviser.
Mr Bollands still works three days a week and continues to give talks about his experiences and about how the oil and gas industry has reformed since the tragedy.
Of the first explosion, Mr Bollands said: "It was so large that everyone on the platform heard and felt it.
"The control room was a complete wreck.
"I was blown 15ft away from where I had been standing.
"The room was full of smoke and my hip hurt a lot.
"I managed to crawl to the control panel and hit the big red 'emergency shutdown' button.
"When I went outside, the sight was frightening and small explosions were going off.
"I managed to get on the Zodiac rescue craft and we were dragged aboard the Silver Pit. The sights those of us aboard saw were horrific."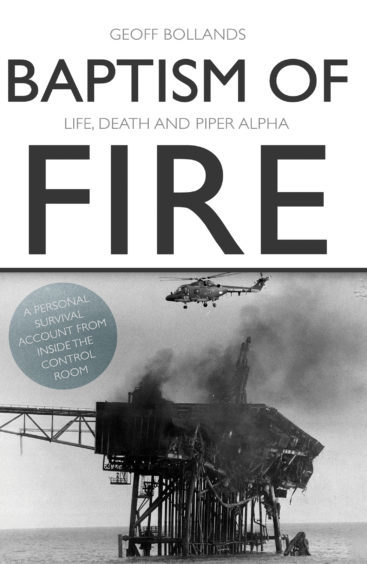 Baptism of Fire is available at troubador.co.uk and Mr Bollands will give a talk about his book at Aberdeen Central Library at 2.30pm on July 14.
An act of remembrance ceremony is to take place at 7pm today at the Piper Alpha Memorial Garden in Hazlehead Park and more memorial events are scheduled for tomorrow.
Ferryhill Parish Church on Fonthill Road, Aberdeen, will keep its Church Sanctuary open from 10am to 4pm tomorrow, providing a place to remember those who lost their lives and who were affected.
The church also has a memorial chapel.
It features a Piper Alpha stained-glass window.
The window's designer, Jennifer-Jane Bayliss, will be at the church from 11am to noon and from 2pm to 4pm. Meanwhile, a book of remembrance will be on show.
Visitors can read official letters of condolence from all over the world.
A short film with some memories from survivors of the disaster will also be available.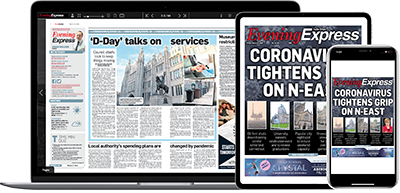 Help support quality local journalism … become a digital subscriber to the Evening Express
For as little as £5.99 a month you can access all of our content, including Premium articles.
Subscribe