These incredible photographs shows the Northern Lights, known as Aurora Borealis, illuminating the North-east  sky.
The Northern Lights glowed across the region as people rushed to catch a glimpse of the spectacle.
The aurora was seen in areas including Stonehaven, Newtonhill and Ellon.
A "lucky combination" of conditions in the lower atmosphere and in space meant the phenomenon was visible across swathes of the country, Met Office space weather adviser Amanda Townsend said.
She added: "Once in a while the solar winds are enhanced to levels stronger than normal, with particles at higher speeds, and on this occasion it has connected really well with the Earth's magnetic field."
For those who are kicking themselves for missing last night's display, there may be another chance to witness it.
The Met Office said the lights could return tonight.
A spokesman said: "There is still a possibility of an aurora occurring tonight but not to the same extent.
"This could happen anywhere across the North-east."
The Northern Lights occur when charged particles collide with atoms in the night sky.
This results in shimmering bands of light, glowing different colours across the night sky.
Instagram and Twitter users were also quick to post pictures of the Aurora across the region.
https://www.instagram.com/p/BCpYEF2uo5BH10ImbjVImP4-v0rE3z1v-yDl8c0/
https://www.instagram.com/p/BCoQX_0t7e-/
@pressjournal @EveningExpress Aurora over Stonehaven this evening. pic.twitter.com/qIjl3GzI0U

— Brian (@Stoneysnapper) March 6, 2016
After 30 yrs living here, I've finally seen the 'Northern Lights of Old Aberdeen'! #Aberdeen pic.twitter.com/LhqUOICDRR

— Andy Coueslant (@andycoueslant) March 6, 2016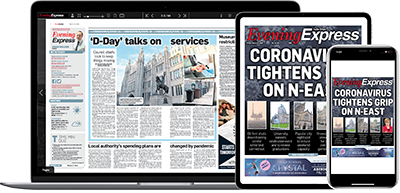 Help support quality local journalism … become a digital subscriber to the Evening Express
For as little as £5.99 a month you can access all of our content, including Premium articles.
Subscribe