Dad to row Atlantic in homemade boat to raise funds for Aberdeen children's hospital
A north-east dad is hoping to be the first person to complete a solo 2,000-mile row to raise £50,000 for the hospital which helped his son.
Pete Rhodes, 35, has set himself the task of completing the gruelling North Atlantic row in the fibreglass boat he'll be building himself.
Only 10 people have previously carried out the row across the North Atlantic, finishing in Ireland or England – and Peter's journey will mark the first time it is completed in Scotland.
Pete's drive to undertake the 2,000 nautical mile journey came after he and wife Kate rushed their eight-day-old son Cedar to hospital after he was struggling to breathe.
The adventurer was in awe of the staff at the hospital who sprang into action to help Cedar, who has just marked his first birthday.
The experience inspired Peter to raise money through the Grampian Health Board Endowment Fund, which will be used to provide additional amenities for Royal Aberdeen Children's Hospital's patients and staff, as well as research and equipment.
Pete, a dad of four from Alford, said: "Before we had children I was an expedition rock climber, and in the past few years I've been doing smaller things like long runs and mountain biking.
"A year ago we had to rush Cedar to Royal Aberdeen Children's Hospital because he was very ill.
"That gave us a cause to look for a way to start raising money.
"Just before Christmas I saw a documentary where four girls rowed across the Pacific, and I thought I could have a go at that.
"My wife said that I should, and it just snowballed from there."
Kate and Pete noticed Cedar was panting, and their midwife suggested taking him to get checked at the hospital.
Pete said: "As we were coming in you could hear him really struggling to breathe, so we drove as quick as we could, and when we got there there were five doctors and six nurses around him within five minutes.
"It was amazing.
"Turns out he had a coarctation, meaning his aorta was blocked.
"When they started to check him over, they took his little suit off and he was grey underneath because there was basically no blood flow getting below his heart.
"What they did was incredible – the speed they work at and the things that they do is unbelievable.
"They stabilised him, put him in an incubator and flew him to Glasgow.
"The next day he had surgery to correct the blockage in his vessel, and he's been fine ever since.
"We came home eight days later, his six-month check-up was spotless and we don't have any reason for concern.
"It's amazing, and it's down to the efforts of the folks in Aberdeen and Glasgow.
"It's given us the impetus to put a bit more effort into raising money."
---
---
Hugh Bishop, clinical director of child health for NHS Grampian, said: "We are humbled, amazed and pretty awe-struck by what Pete is planning to do for this hospital.
"It's fair to say not many people are doing something of this magnitude and have the abilities, both physically and mentally, to do such a project."
He added: "This incredible project Pete is embarking on and his hope to raise a significant sum is really going to help the children's hospital and more importantly the children and families that use it."
Pete, a rope access worker for Sparrows, is building his own boat for the trip, with the help of sponsorship from his employer.
He is currently building the six foot fibreglass vessel in his garage, before he plans to shift it to the firm's Bridge of Don facility, where it will be completed and ready for its sea trials.
His transatlantic journey is due to start in May 2020 and is expected to take around 50 days. It will begin at St Johns in Canada and see him rowing solo to Oban on the west coast.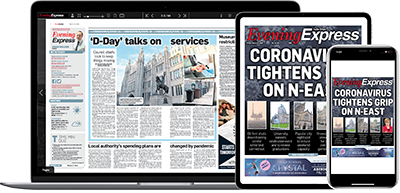 Help support quality local journalism … become a digital subscriber to the Evening Express
For as little as £5.99 a month you can access all of our content, including Premium articles.
Subscribe