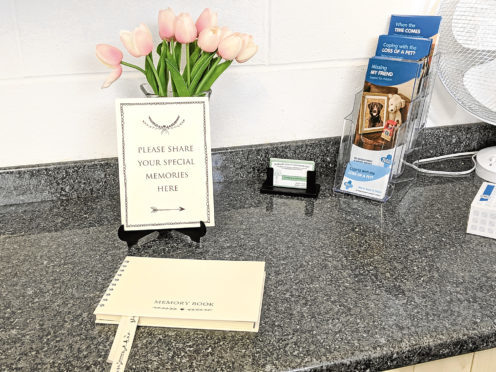 A North-east veterinary practice has introduced a "quiet room" that gives grieving owners the chance to say goodbye to their beloved pets.
Donview Vets, in Inverurie, turned one of the spare rooms in the practice into a quiet room after concerns that pet owners weren't being given enough time with their animals before they were put down.
One of the aims of creating the room was to allow the owners to say goodbye in a comfortable setting.
Director of Donview Vets Charlie Carnochan said: "It was really because unfortunately it is one of the most common things we do, putting pets down.
"We give pet owners a double appointment, but we also felt that we were rushing people.
"Doing it in a treatment room is very clinical and it's not very personal."
The idea to have a more comfortable space came from a nurse who works at the practice.
It's been in place for a couple of weeks now and around three or four families have taken advantage of the set-up.
Since setting up the room, the practice has received positive feedback so far.
There are soft furnishings and lighting, which make the room less clinical than the main consulting rooms, along with some leaflets which offer support and advice, and a memory book where people can leave notes about their pets and share their happy experiences with other owners in the same position.
Charlie said: "At the moment, people come through into the ward.
"With this room, we can take the pet in there with their owners.
"If we're giving them bad news we can take them into that room.
"Previously it was almost like a spare room, and we just thought it was an opportunity to use it, and we've got a nice set up inside.
"When people are in the surgery, we always take them out the back so they don't have to go through the waiting room.
"I think it's nice for people to use it."
The veterinary practice is based in both Inverurie and Kintore, however, the quiet room has been installed in the Inverurie centre.
The room is not used for normal appointments, and gives owners the chance to spend as long as they need to with their pets.
Charlie added: "It's important to us that at the most difficult times owners can be given the time and space they need, and the quiet room will provide this."