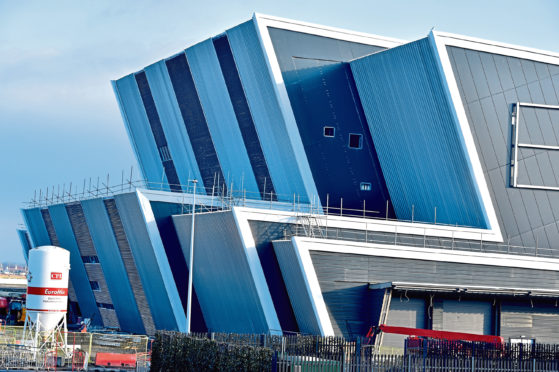 A community council today welcomed plans for parking restrictions around Aberdeen's new exhibition centre.
Members of the Bucksburn and Newhills Community Council previously raised concerns about parking arrangements around The Event Complex Aberdeen, which is due to open later this year.
Earlier this year, the Evening Express reported that residents feared people travelling to the venue would leave their cars in nearby residential streets rather than paying to park on site.
Aberdeen City Council's roads team had previously discussed several different solutions, such as double yellow lines and event day restrictions.
Residents were outraged at the thought of a controlled parking zone (CPZ) being created around their homes.
Members of the community council met Ross Stevenson of the local authority to discuss the possibility of installing double yellow lines along part of the nearby streets.
Alistair Henderson, chairman of Bucksburn and Newhills Community Council, said the meeting was successful, and the proposals were sensible.
---
---
He said: "We found precious little to disagree with. There were probably three or four areas where they had extended the double lines, which might be a little bit contentious if it affected you. But it would be an amicable outcome.
"There was a little bit in Hopetoun where they extended yellow lines in front of a few houses and that was about it.
"The rest of it is really a case of 'suck it and see if it is going to affect us'."
The double yellow lines will be installed as a temporary order, with the possibility of it becoming permanent in the future.
After a period of time, the community will be consulted on their views, and if they think that the measures have helped, the lines could become a permanent fixture.
The community council's planning officer Charlie Shepherd also welcomed the plans, although he acknowledged some people may be upset. He added: "We thought the roads department were quite reasonable but it might be that the real councillors will get complaints at some point.
"We were trying to avoid double yellow lines going everywhere, which would have stopped people going to The Event Complex Aberdeen parking but would have also stopped the residents parking outside their own house.
"We were trying to come to a happy medium between having yellow lines and not."
An Aberdeen City Council spokeswoman said: "Officers are working with the local community council to minimise any indiscriminate parking which may occur in relation to large events at the new arena, exhibition, and conference centre."