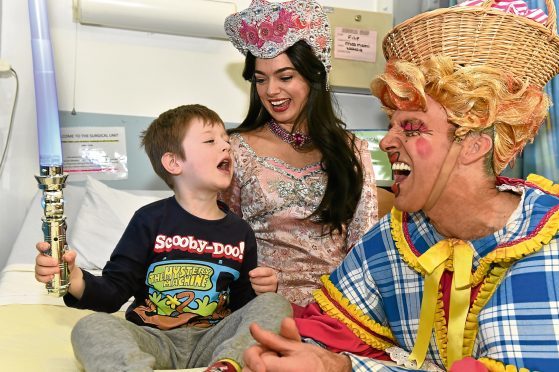 Panto stars have brought festive cheer to children who will spend Christmas Day in hospital.
Dressed in their extravagant costumes, the cast of His Majesty's Theatre's Aladdin met many of the young patients at Royal Aberdeen's Children Hospital.
Wishing the kids and their families a merry Christmas, they brightened up the wards with jokes, songs and presents.
Jimmy Osmond, who takes on the role of the wicked wizard Abanazar, said: "I love being here. It's something very close to my heart. My family started the Children's Miracle Network in America and my two daughters were in hospital, so I under-stand how important it is to get support.
"This is a great hospital and the staff here do a great job."
Local panto legend Jordan Young, who plays Aladdin in this year's performance, said: "It can be difficult as there's some very ill children so just to bring a smile to them is amazing.
"Just to bring a bit of happiness is great, this is the 10th year I've done this."
The 37 year-old added: "We see the really young ones who give you a grin but its very rewarding to make even the teenagers smile." His panto colleague Alan McHugh, who takes on the role of outrageous dame Widow Twankey, said: "It means everything to be here – it's humbling, uplifting, inspiring.
"It's a real reality check for how fortunate we are to have our health.
"It can be hard at times but it's great that we're able to do something here.
"The work that the doctors and nurses do here as well is just incredible."
The cast delivered wands and lightsabers to children in several wards.
James Barrett's seven-month-old daughter Maya Marie will be in hospital over Christmas and New Year.
He said: "It was really good fun and so colourful. Being a child from the 70s it was excellent to meet Jimmy.
"I'm sure my daughter won't remember it, but it's exciting for us in the ward."
But their visit does more than entertain the young ones.
Ward play leader Susan Clark said: "Everyone loves the panto stars: the kids, the parents and the staff.
"Some of the children recognise the characters and it really lifts spirits."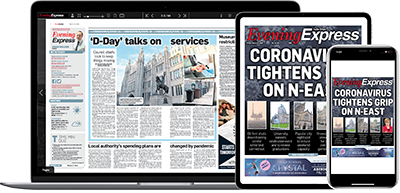 Help support quality local journalism … become a digital subscriber to the Evening Express
For as little as £5.99 a month you can access all of our content, including Premium articles.
Subscribe