A charity has successfully raised vital funds for research into bowel disease after organising its first ball.
Douglas Downie organised the North East Crohn's and Colitis Trust event, which took place at the city's Beach Ballroom on Saturday.
The charity helps Douglas' partner Natalie Campbell who has suffered from Crohn's since her late teens.
Douglas said: "The charity ball went really well and we raised quite a lot of money. At the moment we can't be certain on the exact number, but we're confident it's a large amount."
He added 134 people turned out for the ball, which featured a three-course meal and raffle,  and everyone "really enjoyed themselves".
He said: "This has been the biggest event of its kind."
Douglas said a special award was also handed out to Dr Malcolm Smith, a gastro-enterologist at Aberdeen Royal Infirmary, and nurses from ARI's Inflammatory Bowel Disease department because "they are the ones who are doing all the hard work behind the scenes".
He added: "The Red Hot Chilli Pipers played and they stopped by in the middle of their tour to play at the party."
Douglas, of Aberdeen, has donated thousands to the charity after hosting a number of events since 2015 – including a pool competition and Christmas raffle.
The ball also featured a casino provided by Grosvenor, and CHC Helicopters was the main sponsor.
Natalie said: "The ball was absolutely brilliant. Dougie organised the whole thing himself and has been working on the event for a whole year.
"I walked through the door and was gobsmacked and emotional – it was absolutely brilliant.
"People spent the whole night on the dance floor and they were complimenting us on the way out."
Natalie added that she and Douglas received praise from guests on the "amazing" work they did to organise the event.
She said: "The aim of the event was to raise awareness of Crohn's  and colitis. There are so many people who didn't know what it was before, so it feels like we achieved what we set out to do."
Douglas added how proud he was of Natalie, since she is still being treated for sepsis.
He said she was "so brave for being there while feeling so ill and in so much pain".
The 35-year-old added: "And a massive thank you to Natalie, Kelly Rae, Yvonne Stone, Sandra Downie for helping me on the night and Lee Farman for helping me setup the room during the day."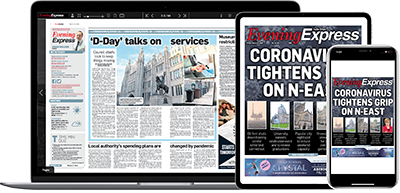 Help support quality local journalism … become a digital subscriber to the Evening Express
For as little as £5.99 a month you can access all of our content, including Premium articles.
Subscribe